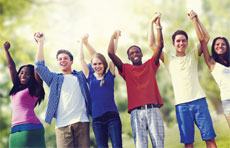 Free summer memberships for teens brought a host of benefits to our community in 2017.
Last summer, the Y offered free summer memberships for high schoolers through the Get Summer program. Thanks to the Richard M. Schulze Family Foundation, 4,800 free memberships were available throughout the metro area in 2017. In 2018, 250 Get Summer memberships will be available at each Y location for teens entering grades 9-12.
A safe and caring space for teens
After attending an orientation, young people in the Get Summer program were ready to use all the benefits that come with Y membership. For this first year, Get Summer was based on similar programs in YMCAs in Boston and Los Angeles, including opportunities for teens to:
Stay active by working out in the fitness center, taking fitness classes, swimming in the pool, or playing basketball during open gym
Enjoy nutritious dinners on weeknights at the Emma B. Howe, Maplewood, Shoreview, West St. Paul and White Bear Area Y locations—in collaboration with YouthPrise
Participate in leadership development programs like Teen Thrive, which is typically only offered during the school year
In addition, select locations hosted supplemental events to engage teens in their neighborhood—like the North Community and St. Paul Eastside Y's three-on-three basketball tournament and teen nights at the White Bear Area Y.
An unexpected energy boost for YMCAs
According to Courtney Harrness, executive director for the Shoreview Y and champion of the Get Summer program, several Y members commented on a different energy in the building this summer—teens were really getting involved and engaging with members of all ages.
"At Shoreview, we saw an uptick in lunchtime basketball games. Usually, there are a few groups of working professionals and retirees that play, and this summer several teens were added to the mix," Courtney says.
Get Summer is coming back in 2018 and 2019
At the start, the program was a smash hit with young people in our community—all available spots were claimed by the time the program started in June, with a waitlist of over 400 interested teens. For 2018, registration for Get Summer memberships runs June 1-15—be sure to sign up early to secure your spot.
In 2017, the Y became a place for high schoolers to hang out with friends, connect with caring adults, and build life skills. "The Get Summer program shines a light on the Y's commitment to inclusion, access and equity. Our goal is to set up a bright future for young people—and there's no better time to do that than summer, when teens have the potential to engage in more risky behaviors," he says.
Due to the popularity of the program in 2017, it's been confirmed to return for at least two more years.