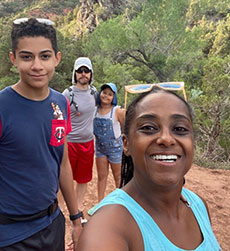 After enjoying four years of family camp in the Northwoods, Tseganesh Selameab feels the comfort and familiarity of the YMCA of the North's Camp du Nord and Camp Northern Lights. Now her goal is to make Camp Northern Lights a place of respite for everyone.
Tseganesh's family was among Camp Northern Lights' first summer campers, and she was invited to join and develop the new community board. She said yes because of her love of camp, but more importantly to be part of creating a place of inclusion from the start and to insist it becomes a home for everyone and not just for some. 
The Taking S.T.E.P.S. Campaign (Supporting the Transformation of Equity and Power in Outdoor Spaces) was created as an awakening – or new beginning – to recognize the reality of racism and racial injustice. Camp leaders, like Angela Wunderlich, shared in their outrage at the many terrible acts of racism and felt the weight of George Floyd's murder in May 2020 as they entered staff training last summer. These feelings, which had been present for a while, prompted them to create tangible changes to address inequities that happen in the camp world. Tseganesh feels hopeful and glad to see "…known barriers for families of color are being addressed."
Tseganesh believes this equity energy is just starting and wants to expand on that to ensure this inclusivity extends to the LGBTQ+ community and people with diverse abilities.
Taking a step back, volunteer leaders know this work begins with acknowledging the land where camp is located. Camp Northern Lights is not the beginning of this land's story, nor will it be the end. New stories will continue to build on its history because we change and evolve. We are stewards of this land, not owners.
Camp volunteers and team members also recognize there is more to being equitable than inviting people into this space. It's more complex than that. It is in how comfortable and prepared our campers feel being in outdoor spaces. They're looking at multiple areas where inclusion is sometimes left out, such as water safety, staff training, and considering how safe a person of color feels as their family travels to camp. The summer team didn't think it was right that someone who identifies as BIPOC felt like an outsider in this camp setting. Everyone should enjoy nature and its ability to restore – but they also need to feel safe. The way we help campers prepare for their time outdoors will determine success. The Camp Northern Lights Board is having conversations around engaging new campers with touch points throughout the year to give them a better understanding of what they can expect. Hopefully, they can meet some camp counselors and see photos of the spaces, so they already have a sense of familiarity when they arrive on check-in day.
When families and individuals get to camp, they should feel they're joining a community that actively promotes equity. They should see people who look like them, giving them a natural comfort of belonging. Kids should have fun and enjoy a level of freedom to explore. Camp experiences create fond memories and instill values in young people. At family camp, they learn to be tenacious and motivated to do good things. When they see success in their hard work, they learn resiliency. It's not just the kids, it's the grown-ups who also learn to be brave and to try something new.
When campers get to Northern Lights, they should not only feel welcome, but know it is a space created intentionally for them.
Learn more about getting involved in Taking S.T.E.P.S. at Camp Northern Lights.