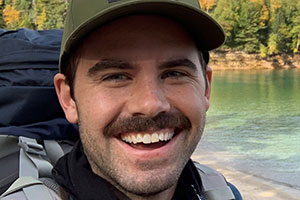 Please join us in welcoming our new Executive Director at Camp Northern Lights, Dan O'Brien!
Dan's Y camping experience began in fourth grade. His elementary school took their class to YMCA Camp St. Croix for a multi-day retreat, and he loved every minute. This passion for Camp continued, and after graduating from high school, Dan spent five summers working as a counselor at Camp St. Croix. After filling numerous roles on the St. Croix summer staff, Dan spent four years as the Program Director at YMCA Day Camp Heritage. 
Looking for a new opportunity to serve families, Dan was a part of the founding staff team at Camp Northern Lights, spending the past three years as the Program Director. The camp has seen significant growth thanks to strong leadership from the incredible staff and volunteer community he helped shape.
Dan is a native of Hudson, Wisconsin, but he has lived in St. Paul for the last eight years. He enjoys down time with friends, cooking, and seeing live music. Some favorite outdoor activities include cross-country skiing in the winter and biking in the warmer months. Dan recently adopted a retired sled dog named Tundra, and they love to spend time together outdoors. Dan is grateful to be a part of the Northern Lights community and honored to serve in this new role.
We recently asked Dan to answer a few questions, camp-style.
Q: Most important question first. What's your favorite camp song and why?
A: Muhlenberg County. Every time we sing that song, it makes me happy. I honestly sing or hum it a lot, whether it is while doing chores or around a campfire.
Q: What are you most excited for, especially as you think about your first summer as executive director?
A: For summer – I am very excited about the growth of our mountain biking program, as we have recently developed three miles of new trails. I can't wait to see the program grow – I love to bike myself and can't wait to get out on the trails with camp families.
Camp Northern Lights is a beautiful space to enjoy at any time of year. This winter is going to be great because we just finished building our new sauna and will be able to groom ski trails for everybody to enjoy all winter long. Because it gets dark up north around 4 p.m., the school-year staff and I love playing broomball by headlamp!
Q: Tell us about one or two of the initiatives at camp you care about deeply.
A: I am passionate about all of the equity work Northern Lights has already accomplished and its path forward as an equity leader through the S.T.E.P.S. program. This is an initiative that has been driven by our passionate community, and I am excited to support its growth. The mission of Camp Northern Lights is to nurture our need for belonging and connection, to each other and to the outdoors. We want to make sure this mission serves anybody who wishes to be part of Camp Northern Lights.
Q: When you're not cleaning biffies or defending Camp from black bears, you're…
A: Over the past three years, I've been called on to provide support to a few stranded pontoons, played countless games of nukem with age groups, stayed hip on all of the latest trends by chatting with LDPs, frantically typed and delivered the noon announcements, and delivered meals throughout the entire property.
If you would like to contact Dan, please email daniel.obrien@ymcamn.org.