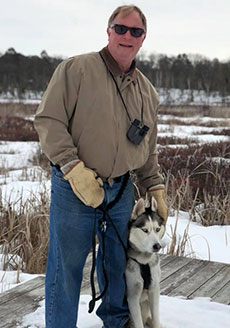 If you've been around Widjiwagan long enough, you know there are a few names that are synonymous with this place- Kirby, Joe Smith, Whitey, Seliga, Wilbur Jeffery, and more. Dr. Bixby is another name that is forever connected with Widjiwagan. Dr. Mark Bixby was our first and, until his retirement last year, only Advising Physician. Back in the 1980's, Widjiwagan's Director Bob Rick and Dr. Bixby worked together to create what is now one of Widji's most crucial volunteer positions. Their efforts ensured that Widji had an Advising Physician long before it was required in the wilderness tripping field.
This is a largely behind-the-scenes role and if you did not work on summer staff might not have crossed paths with Dr. Bixby. Our Advising Physician supervises our healthcare policies and practices and ensures that we are providing the best possible medical care to our staff and campers. When a camper or staff becomes sick or injured in the field, our Advising Physician helps us determine the best course of action. I speak from my experience both as a summer Trail Staff and as a Program Director that hearing the words "this is what Dr. Bixby recommends" always brought with it an assurance that it was going to be ok.
For twenty-some years, Dr. Bixby has also managed our Incident Database. Widji closely tracks all incidents that happen and this dataset helps us look at trends in what types of incidents are occurring in our program. On a number of occasions, this data has led to meaningful and needed change in our program. This dataset is also one of the longest running and best maintained in the wilderness tripping and camping field. Dr. Bixby has presented about this database with various Widjiwagan Program Directors at national conferences. Managing such an extensive dataset is a huge effort as we are forever grateful to Dr. Bixby for being its caretaker for so long.
In addition to serving as Widjiwagan's Advising Physician, Dr. Bixby has been a camper, staff, camper parent, and now camper grandparent! We are so grateful to Dr. Mark Bixby for his decades of service. Even since his retirement in the spring of 2021, Dr. Bixby has continued to volunteer his time and expertise to Widjiwagan. We love collaborating with him on projects and will always rely on his valuable perspective. Thank you Mark!