Cancelled due to COVID-19. Stay tuned for new dates.
A culture immersion in Bogota, Colombia awaits with a week of community-based service projects, arts and culture experience, and relaxation in this gorgeous mountain destination!
Our Adult Impact Trip is an invitation to step into a week in the cultural mecca of Latin America to focus on service to others, service to self, and quality time with other mission focused participants!
Bogota, Colombia
The city of Bogota is made up of breathtaking mountain views, French style café's, cobblestone streets, microbreweries, historic neighborhoods, expressive music and culture. Participants will experience first-hand the amazing work done by the Bogotá YMCA, contribute their own skills to support the mission, and take in Colombia's breathtaking landscapes.
On this week adventure, we will travel from the heart of Bogota where we will stay four nights in upscale hotel accommodations, with easy walking to museums, cafés, and historical landmarks out to YMCA Camp Bochica for a three-night stay in camp-style housing shared with group members.
Schedule
Arrival on October 23: Travel to Bogota from your destination, trips will be coordinated with fellow participants based on travel plans.  Participants are responsible for their own airfare. Group members will travel together from the Bogota airport to Hotel Suites Tequendama. 
October 24 and 25th: The group will explore the sites, foods and views of Colombia, from Salt Mine tours to the local nature preserve. In the evenings we will gather together at delicious restaurants, share in stories of the day and give you time to explore, shop, listen to live music, or simply relax in the hotel pool or hot tub!
October 25-27th: We will depart for Camp Bochica in the late afternoon on the 25th where we will settle into our new home at Camp after a breathtaking hike through the Nature Preserve. For the next two days we will explore our new mountain home with ecological tours in the morning and trail work in the afternoon. 
October 28-29: The group will settle back into the plush accommodations of the Hotel Suites Tequendama. We will spend the next two days digging deeper into the historical sites, museums, culture, music and food of the Colombian people. 
October 30: Departure day-travel will be arranged for the group to leave together to the Bogota airport.
Fee
Cost per participant: $1,500
Price Includes:
Accommodations at Hotel Suites Tequendama and Camp Bochica
Transportation to all destinations and to and from the airport
All meals- primarily restaurants while in Bogota and in the camp dining hall at Camp Bochica
Tickets to attractions
Yoga, group journals and personal reflection opportunities. 
**Price does not include airfare, alcohol, additional optional excursions, and tipping.
What to bring
Appropriate clothing and gear for performing in a wide variety of environments in a cool mountain climate. This includes sturdy shoes, layers of shorts or long pants, t-shirts and lightweight long sleeve shirts, as well as adequate sun protection.
Flashlight/Headlamp with extra batteries for our time at the camp.
Swimming items (suit, towel)
Toiletries (eco-friendly preferred) and medications
Lightweight lounging clothes
Camera/phone and chargers
Bug spray and sunscreen
Passport!
Evening casual clothes for dinners out, museum visits 
Something nice for our final dinner out
Meet your adventure directors!
Feel free to reach out for more information.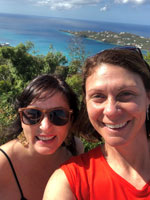 Niki Geisler is the current senior executive director for YMCA family camps in Minnesota. Niki has been with YMCA Camping since 1998, in California, Wisconsin, and Minnesota. She has led a variety of wilderness trips with teens and young adults and has co-led two Women's Impact Trips to St. John, USVI in 2018 and 2019.
Niki Geisler: niki.geisler@ymcanorth.org
Michel Tigan is the current executive director at YMCA Camp Icaghowan and has an extensive background in leading women's wellness trips around the globe.  She is also a 200 Hour Yoga Alliance Certified Yoga Instructor with additional certifications in Pre-Post Natal, Sculpt, Hot Power Fusion, Hot Yoga, Restorative/Nidra and Barre. Michel has co-led two Women's Impact Trips to St. John, USVI in 2018 and 2019.
Michel Tigan: michel.tigan@ymcanorth.org