An adventure-filled week of community-based service projects, cultural experience, and relaxation!
Our Couples' Impact Trip is an invitation to step into a week in paradise to focus on service to others, service to self, and quality time with other mission focused participants! 
More information and registration to come soon
April 17 - 24, 2021
Centro Martin Luther King Retreat Center, Havana Cuba
The Island of Cuba is made up of breathtaking mountains, clay red valleys, white sand beaches, historic neighborhoods, expressive music and culture. 
We will be staying at Centro Martin Luther King Retreat Center in Havana, the heart of Cuba. Registrants will stay in a dorm style retreat rooms, equipped with bunk beds, bathrooms, gathering spaces, and full service kitchen. Retreat rooms will be built out by couple, a couple is any pair of two, 18 and up.
Schedule
Arrival on April 17th: Travel to Cuba will be scheduled from Miami as a group, through the support of the YGTC's travel agency due to the need for an educational license.  Participants are responsible for their own airfare. Please plan to arrive in Miami by 12:00 on April 17th.  We will help you with more details if needed.  Together we will travel from Miami to Havana, then onto Centro Martin Luther King. 
April 18-23: The group will participate in four service projects over the week exploring different aspects of the island, its rich history, deep-rooted agriculture and community. Examples of this service are supporting the work of Doctor's Without Boarders, the Chernobyl Children's Hospital, and environmental service projects.  Each of the four service days, from approximately 8am-2pm, we will travel, work and serve alongside the people of Cuba.  We will have two free days during the week (we will have an organized afternoon and evening of live music and Cuban food!) Afternoons and evenings are available for registrants to explore, shop, snorkel, or simply relax in the sunshine!
April 24th: Departure day- travel will be arranged for the group to leave together via the Havana airport to Miami connecting flights will happen from there.
What to bring
Appropriate clothing and gear for performing in a wide variety of environments. This includes sturdy shoes, layers of shorts or long pants, t-shirts and lightweight long sleeve shirts, as well as adequate sun protection.
Swimming stuff (suit, towel, goggles, and snorkel). Snorkel gear can also be rented locally.
Toiletries (environmentally friendly preferred!)
Lightweight lounging clothes. Bring something that covers your skin a little more for the bugs at dusk.
Camera/phone and chargers
There is no bedding included. Pack a fitted sheet, sleeping bag, sheet, or light blanket. It stays quite warm at night, but it's nice to have something to cover up with. Fans will be available in your spaces. 
Flashlight/Headlamp with extra batteries.
Bug spray and reef-safe sunscreen
Passport 
Evening casual clothes for dinners out and evening activity
Meet your adventure directors!
Feel free to reach out for more information.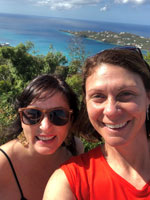 Niki Geisler is the current senior executive director for YMCA family camps in Minnesota. Niki has been with YMCA Camping since 1998, in California, Wisconsin, and Minnesota. She has led a variety of wilderness trips with teens and young adults and has co-led two Women's Impact Trips to St. John, USVI in 2018 and 2019.
Niki Geisler: niki.geisler@ymcanorth.org
Michel Tigan is the current executive director at YMCA Camp Icaghowan and has an extensive background in leading women's wellness trips around the globe.  She is also a 200 Hour Yoga Alliance Certified Yoga Instructor with additional certifications in Pre-Post Natal, Sculpt, Hot Power Fusion, Hot Yoga, Restorative/Nidra and Barre. Michel has co-led two Women's Impact Trips to St. John, USVI in 2018 and 2019.
Michel Tigan: michel.tigan@ymcanorth.org