A joy-filled week of nature-based service, exploration, and relaxation in beautiful Luquillo, Puerto Rico!
Our Women's Impact Trip is an invitation to step into a week in paradise to focus on service to others, service to self, and quality time with other amazing women.
In partnership with the El Yunque National Forest
The El Yunque National Forest is the only tropical rain forest in the national forest system.  At nearly 29,000 acres, it is one of the smallest in size, yet one of the most biologically diverse of the national forests hosting hundreds of animal and plant species, some of which are found only here.
We will be staying in a wonderful vacation rental home on the beach in Luquillo, Puerto Rico. Please see the home's webpage for details and photos.
Capacity for this trip is 11 women, ages 18+. Accommodations include four full bathrooms and an outdoor shower, two kitchens, six shared bedrooms with individual beds, all linens, common gathering areas, patio overlooking the beach, gorgeous space for yoga and meditation, and recreational equipment.
Schedule
Arrival on Saturday, November 13th: Please arrange your travel to arrive to San Juan during daylight hours on November 13th.  We will transport you from San Juan airport to the home in Luquillo (approximately a 45 minute drive.)
November 14-19th: Our four days of service will be within El Yunque National Forest. Projects might consist of working on uneven and muddy terrains, hiking trails, picking up trash, brushing debris, maintenance of recreation sites and use of manual or machine tools. Our approximate work day will be 8am-2pm.  We will have one free day during the week (we will have an organized boat and snorkel excursion that day!) Afternoons and evenings are available for us to explore the island and relax by the beautiful Caribbean waters!
November 20th: Departure day- please arrange your travel to depart from San Juan airport mid-day or afternoon, in order to account for shuttle time to the airport.
Fee
Cost per participant: $975**
Price Includes:
Accommodations at Minneazul home (includes linens)
Transportation- we will be renting a van for the week.
Breakfast and lunch/snacks each day (pack-out lunches on service days); four home-cooked dinners are included. Three dinners at local restaurants are not included in the registration fee. 
Yoga, meditation, and other wellness offerings.
Two group excursions – bioluminescent evening kayak eco-tour and a day of sailing in the Icacos Islands.
**Price does not include airfare, alcohol, additional excursions, and tipping.
What to bring
Appropriate clothing and gear for performing field work. This includes sturdy shoes, long pants, lightweight long-sleeve shirts, work gloves and sun protection. 
Casual clothes for dinners at local restaurants (our last dinner might have a fancier feel.)
Swimming and beach attire/gear (swimsuits, beach towel, hat, reusable beverage cup, sandals, sunglasses, and snorkel gear). Snorkel gear can also be rented locally.
Toiletries (eco-friendly)
Lightweight lounging clothes. Bring something that covers your skin a little more for the bugs at dusk.
Camera/phone and chargers
Bug spray and reef-safe sunscreen
Flashlight/Headlamp with extra batteries
Books/magazines/reading materials
Spending $
Yoga mat
Water bottle
Meet your adventure directors!
Feel free to reach out for more information.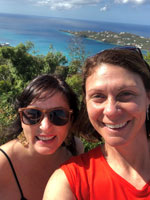 Niki Geisler is the current senior executive director for YMCA family camps in Minnesota. Niki has been with YMCA Camping since 1998, in California, Wisconsin, and Minnesota. She has led a variety of wilderness trips with teens and young adults and has co-led two Women's Impact Trips to St. John, USVI in 2018 and 2019.
Niki Geisler: niki.geisler@ymcanorth.org
Michel Tigan is the current executive director at YMCA Camp Icaghowan and has an extensive background in leading women's wellness trips around the globe.  She is also a 200 Hour Yoga Alliance Certified Yoga Instructor with additional certifications in Pre-Post Natal, Sculpt, Hot Power Fusion, Hot Yoga, Restorative/Nidra and Barre. Michel has co-led two Women's Impact Trips to St. John, USVI in 2018 and 2019.
Michel Tigan: michel.tigan@ymcanorth.org