A joy-filled week of nature-based service, exploration, and relaxation in the beautiful Virgin Islands!
Our Women's Impact Trip is an invitation to step into a week in paradise to focus on service to others, service to self, and quality time with other amazing women! 
February 7 - 14, 2021
Friends of the Virgin Island National Park Campground at Cinnamon Bay, St. John US Virgin Islands
The US Virgin Islands National Park consists of breathtaking hills, valleys, beaches, turquoise water and sea life unlike anywhere else on the planet. 
We will be staying at the Friends of the Virgin Islands National Park campground- located at Cinnamon Bay- in platform tents that are reserved for service groups. Platform tents will be shared with 2-3 women in each tent.
Schedule
Arrival on February 7th: Please arrange your travel to arrive to St. John during daylight hours on February 7th. Most common travel arrangements are to fly into St. Thomas and take the ferry to St. John. We can help you with more details if needed. We will transport you from Cruz Bay, where you get off the ferry, to the campground.
February 8th-12: Our service project will likely be trail work within the National Park trail system. Staff will transport us to our service site each day from approximately 8am-1pm.  We will have one free day during the week (we will have an organized boat and snorkel excursion to Virgin Gorda and Jost Van Dyke in the BVI that day!) Afternoons and evenings are available for us to explore the island and relax by the beautiful Caribbean waters!
February 14th: Departure day- please arrange your travel to depart from St. Thomas airport in the afternoon, in order to account for ferry travel from St. John and shuttle time to the airport.
Fee
Cost per participant: $875**
Price Includes:
Accommodations at Cinnamon Bay Campground- shared platform tents
Transportation- we will be renting a van for the week
Breakfast lunch and snacks each day (pack-out lunches on service days); Dinners: 4 dinners will be cooked at the campground and are included in the fee.  Other nights, we will organize group dinners out, or you can go out to dinner on your own.
Yoga classes
Boat and snorkel excursion to Virgin Gorda and Jost Van Dyke in the BVI on our service day off (must have a passport to go to the BVI)
**Price does not include airfare, ferry from St. Thomas, alcohol, additional excursions, and tipping.
What to bring
Appropriate clothing and gear for performing field work. This includes sturdy shoes, long pants, lightweight long-sleeve shirts, and sun protection. Work gloves will be provided.
Flashlight/Headlamp with extra batteries.
Swimming stuff (suit, towel, goggles, and snorkel). Snorkel gear can also be rented locally.
Toiletries (eco-friendly)
Lightweight lounging clothes. Bring something that covers your skin a little more for the bugs at dusk.
Camera
Solar phone charger/extra batteries
The Friends Camp provides cots, but no bedding. Pack a fitted sheet for the cot, sleeping bag or light blanket, and a sleeping pad (optional but comfortable). It stays quite warm at night, but it's nice to have something to cover up with.
Bug spray and reef-safe sunscreen
Passport for excursion to the BVI
Casual clothes for dinners at local restaurants
Spending $
Meet your adventure directors!
Feel free to reach out for more information.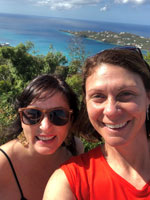 Niki Geisler is the current senior executive director for YMCA family camps in Minnesota. Niki has been with YMCA Camping since 1998, in California, Wisconsin, and Minnesota. She has led a variety of wilderness trips with teens and young adults and has co-led two Women's Impact Trips to St. John, USVI in 2018 and 2019.
Niki Geisler: niki.geisler@ymcanorth.org
Michel Tigan is the current executive director at YMCA Camp Icaghowan and has an extensive background in leading women's wellness trips around the globe.  She is also a 200 Hour Yoga Alliance Certified Yoga Instructor with additional certifications in Pre-Post Natal, Sculpt, Hot Power Fusion, Hot Yoga, Restorative/Nidra and Barre. Michel has co-led two Women's Impact Trips to St. John, USVI in 2018 and 2019.
Michel Tigan: michel.tigan@ymcanorth.org
Lisa West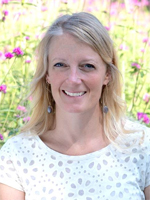 Lisa West spent her years after college leading canoe and backpack wilderness trips for YMCA Camp Widjiwagan and sailing trips for the National Outdoor Leadership School (NOLS). She has been practicing massage therapy and offering birth doula services for nearly 20 years. Recently, she has co-led several women's retreats focused on wilderness immersion and the connection we share with this amazing planet. Lisa has traveled and sailed around the Virgin Islands her whole life. She is a 2020 Women's Impact Trip alum and is thrilled to be heading back to St. John to share and help preserve the beauty of the island with groups of women.