The UnitedHealth Group Equity Innovation Center is a collaborative engine of equity innovation serving the Twin Cities region and beyond. More than a place or a program, we serve as a national center of excellence that seeks innovative ways to solve intractable problems around inequity, intolerance and exclusion.
The YMCA is well-known for our commitment to healthy living, youth development and social responsibility. The UnitedHealth Group Equity Innovation Center began as way to expand the work of the Mission Impact Council that was created over five years ago, in partnership with Youthprise and the Greater Twin Cities United Way to address the disparities facing thousands of Twin Cities urban and underserved youth. The initiative brought together leaders from around the Twin Cities as well as leaders representing six diverse communities to guide their work, including the East African/Somali, Hmong, African American, Hispanic/Latino, Native American, and Homeless and Highly Mobile communities.
The Mission Impact Council held community engagement forums called Equity innovation Labs where participants were led through a civic engagement process that examined the various challenges facing their youth and communities. This community engagement process provided the Mission Impact Council and the YMCA with the resources and partnerships needed to foster civic engagement and leadership development among community organizations and youth participants.
Through the UnitedHealth Group Equity Innovation Center, the YMCA plans to expand and advance the work of the Mission Impact Council by working with organizations from all sectors to develop innovative solutions for the disruption of social inequities. With our legacy of positive change in communities, we launched this Center of Excellence to learn, practice and share. We don't claim to have all the answers. Instead, we bring together thought leaders and change agents from across the region to:
Identify best practices
Develop future practices
Convene individuals, groups and power communities
Be a resource
What Makes Us Unique?
---
Unlike most organizations focused on advancing diversity, equity and inclusion, we focus on fueling equity innovation for greater impact. By equity, we mean the ability to see and remove structural barriers in systems for people to create equal opportunity. By innovation, we mean fresh approaches and practices that positively impact the Equity Progress Curve.™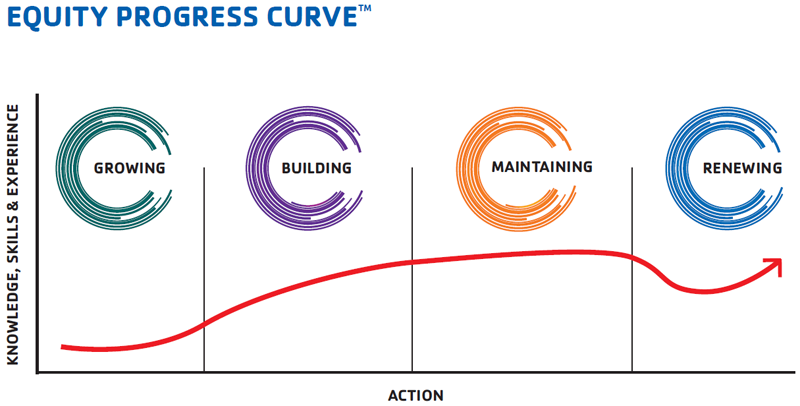 Where Do We Start?
We recognize that everyone is in a different place on their equity journey. We meet you where you are at. Some people may be reacting to what's going on culturally and need a place to begin. Others have been doing equity work for a while and want to know what is working. Still others aspire to take their internal equity work to a broader audience.
What Issues Do We Address?
Quite often, groups or organizations come to us when they:
Commit to the value of equity but don't know how to make it real
Need help recruiting and retaining diverse talent in a tight job market
Identify gaps that need to be addressed to stay competitive in their field
Need help resolving a contentious staff issue
Want to be more inclusive in their programming
Aspire to be perceived as more welcoming
Face a cultural clash in their organization
We help them work through these issues and so much more. The results are high-performing, culturally aligned organizations, healthy communities and systemic change for those most impacted by inequities.
What Is Our Approach?
---
Why the YMCA?
As one of the largest nonprofit social service organizations in Minnesota (and the third largest YMCA in the nation), we are in a unique position to engage the Twin Cities and Rochester community through our 350,000 participants, 8,500 employees and more than 140 sites – many of which serve communities of color and new immigrants.
Beyond the power of our network, we are truly inspired to do our part to address the inequities in our communities. 
Opportunity and equity are core to our mission and values. They are at the heart of our long-standing commitment to social responsibility. They amplify the collective work of our Mission Impact Council, which partners with organizations to create a brighter future for young people. And they advance our Diversity, Inclusion & Global initiative, which creates space for equity work for all.
What is Our Approach?
We start with a few assumptions – that we are learners not experts, that our community sites can be rich innovation labs and that great ideas can come from anywhere. That's why collaboration is central to our work. Our growth in the equity innovation arena is key to the YMCA's continued relevance and sustainability.  
Our collaborative equity innovation model is built on four shared tenets : Shared Vision, Shared Practices, Shared Solutions and Shared Outcomes.
Who Do We work With?
---
Inclusive Downtown Think Tank
The Inclusive Downtown Think Tank engages thought leaders, community partners and Minneapolis Downtown Council members in imagining, defining and creating an inclusive downtown. 
Action: The Downtown Think Tank will host a cross-sector, research-to-action work group in a year-long series of guided conversations and hands-on experiences in partnership with the UnitedHealth Group Equity Innovation Center.
Result: Through the work with the UnitedHealth Group Equity Innovation Center, the Downtown Think Tank will advance the collective vision of Minneapolis as one of the nation's best places to live, visit and do business.
"One key objective is to begin seeing differently, and then acting differently, to better align our individual behaviors with our collective aspirations." - Jim Vos, participant in the Inclusive Downtown Think Tank
Community Reinvestment Fund
The Community Reinvestment Fund (CRF) empowers people to improve their lives and strengthen their communities through innovative financial solutions.
Action: CRF hopes to train and educate their staff, be stewards of communication throughout the organization, lead the effort of changing the way the organization works internally and externally, promote organizational values and inspire dialogue, learning and cross-cultural exchange through participation in the Equity Leader Institute.
Result: Through its work with the Equity Leader Institute, CRF is focusing on four main goals: achieve staff education, vendor diversity, talent management and effective communication with the communities the organization serves.
"We believe that partnering with the YMCA aligns with our organizational values and will help us achieve our goals, while forging a longstanding relationship in the community." – Kavita Wishart, chair of CRF's Diversity, Equity and Inclusion Committee
City of Hastings
The Hastings City Council and the Hastings Public School District adopted a joint resolution to proclaim common beliefs, aspirations and commitments to ensure that Hastings is a safe and caring community for all.
Action: The City of Hastings and the Hastings Public School District addressed the broad nature of diversity by declaring a commitment to increase awareness and address the needs of a changing population and to defend the rights and privileges of every person for fair treatment and full access. The Hastings City Council approved funding for a financial partnership between the city, the school district and the YMCA that will support bringing in advisors and experts to help guide the Hastings community on this path.
Result: The UnitedHealth Group Equity Innovation Center is helping the City of Hastings and Hastings Public School District identify and address specific issues affecting the town of Hastings, provide community training for both leadership and community members and assist with empowering community leaders to carry on future equity work.
"What has impressed me the most about the UnitedHealth Group Equity Innovation Center is that they have such broad experiences and a deep well of resources to lean on when developing a customized approach for every unique group. They invested the necessary time into our community to understand what our needs are, trusted our perspective and advice on what assets and approaches would work well and have continued to support us through our journey." - Mark A. Zuzek, superintendent of Hastings School District