Because we know staff is the most important part of a camp experience, we take great care to hire and train qualified, enthusiastic staff. We look for leadership skills, prior experience working with children, decision-making capabilities, respect for the environment and safety awareness.
Our year-round staff includes an executive director, program director, administrative coordinator and site manager. During the summer, we bring in high school, college and graduate students as counselors and specialists.
All staff members are certified in CPR and First Aid. Waterfront specialists are certified lifeguards, and as required, others are certified as an EMT, First Responder or have been trained in Wilderness First Aid.
Jeanna Nesbitt, Executive Director
Fall, winter, spring phone: 763-230-6574
Summer phone: 218-744-4222
Email: Jeanna.Nesbitt@ymcanorth.org
Camp Warren has been an incredible constant in my life, whether I was a camper, counselor, volunteer, or YMCA team member. For me, Warren has always been a place to discover and develop, and it has always been a place to practice independence and make new connections. 
I count myself lucky that my role at Warren gives me a chance to help campers grow. There's nothing quite like watching campers gain self-confidence, learn problem-solving skills, and build community. And of course, outdoor adventures provide much-needed opportunities to "unplug" and connect with nature.
I'm looking forward to an amazing summer on Half Moon Lake. See you soon!
Louis McGraw, Program Director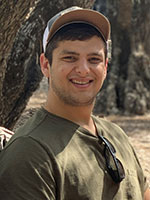 Fall, winter, spring phone: 651-793-7286
Summer phone: 218-744-4222
Email: Louis.McGraw@ymcanorth.org
I have been lucky enough to have had Camp Warren as part of my life for nearly two decades. I was a camper for eight years, a counselor for another six, and an alumni/volunteer/health officer for a few additional years. I returned to camp at the very end of 2021 as the Program Director. I feel so grateful that I get to work with our wonderful staff team to give these campers a wonderful, transformative, and memorable experience. Please feel free to reach out with any questions about our programs, camp life, or any general camp questions!
Nick Weber, Administrative Coordinator
Phone: 651-747-0918 
Email: Nick.Weber@ymcanorth.org
I joined the Camp Warren Team as the Administrative Coordinator in 2021 - although I am no stranger to YMCA Camps. I started my Y Camping journey at Camp St. Croix in 2005 and have worked for a variety of camps and programs since. Through my time working with Y programming, I am always excited to help families get outside for play and adventure. I am happy to help answer any questions related to summer programming, or if you are interested in visiting Camp Warren in the fall, winter, or spring.
John Brittingham, Site Manager
Christine Brittingham, Kitchen Manager