Mackenzie Erpenbach - Camp Director, Day Camp Heritage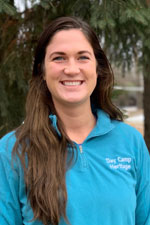 Camp has been a part of my life since I was a child. I had the opportunity to attend a variety of different Y programs as well as be a part of the Camp Heritage staff team since 2012. The YMCA has had a tremendous impact on my life and it was a large part of my decision to pursue a degree and license in Social Work. The knowledge I have gained through a variety of settings and programs, most notably, working in a Child and Youth Care Center in Cape Town, South Africa, has helped me gather the tools to continue fostering a safe, happy, and healthy environment at Camp Heritage. 
I love that Camp Heritage is filled with people from all walks of life who come together to create an amazing community. I enjoy the community that is fostered at Heritage which gives campers a unique opportunity to immerse themselves in nature while creating a culture for personal growth and healthy relationship building. I feel lucky to be a part of the growing community of amazing staff, children, and families. I hope you will join us this summer in our mission to continue to build and grow the Camp Heritage community.