Our Staff Team 2023
We might be a bit biased, but Spring Lake is lucky to have the most amazing staff team around! Below is a picture of most of our incredible team from this past summer! We hope to have a lot of our staff returning next summer & we can't wait to hire amazing new staff who will give our youth & families the best weeks ever for Summer 2024!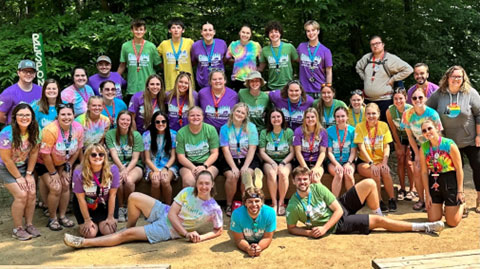 Lane Underdahl, Camp Program Director (Goldie)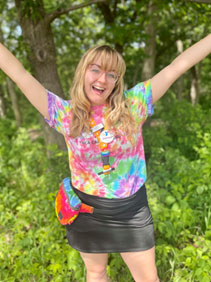 My name is Lane Underdahl and I have served as the Camp Spring Lake Program Director for the last 3 summers. I got my start in camping, as a counselor at Camp Spring Lake over ten years ago & found such a love for the youth-development work that we achieve in the outdoors that I've come back to camp every summer since. I have a Bachelor's in Educational Studies and English from Vanderbilt University. I also worked with the Y as a School Age Care Lead before moving into Camping Full-Time. Camp Spring Lake has been my home away from home for the past ten years & one of my favorite things is to see campers learn about nature and make new friends each week. Leadership development is one of my passions, so I love hiring staff, and watching our campers, teen leaders and staff grow as individuals and leaders during their time at camp! When I'm not at camp or Nature Preschool you can find me enjoying live music in the cities, planning costumes for theme days or having board game nights with friends and family. 
Amy Rowan, Senior Camp Program Director (Queen Bee)

Amy Rowan is the Senior Camp Program Director supporting Day Camps across our association. Amy has over 14 years of experience in the YMCA youth-development world developing programs, initiatives, resources and staff teams. She is responsible for supporting the Day Camp operations for 9 locations in the Twin Cities and Rochester, serving more than 30,000 campers each summer. Prior to this promotion, Amy was the pervious Program Director of Day Camp Spring Lake & contributed immensely to cultivating the culture of "camp magic" we strive to keep alive today. Her educational background is in Elementary Education and Early Childhood Education. When she is not at work, Amy enjoys spending time with her dog Rosie, walking on the beautiful trails & dog parks in the Twin Cities, enjoying time at her family's cabin, listen to the Harry Potter audiobooks again, and travel. We look forward to having "Queen Bee" visit us every so often this summer.