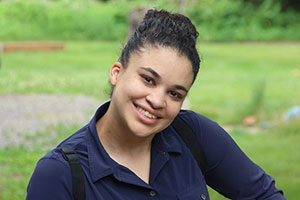 Please join us in welcoming our new Executive Director at Camp Warren, Jeanna Nesbitt!
With 10 years of experience working with Camp Warren and the YMCA of the North, Jeanna is excited to return to Half Moon Lake. Jeanna was a Warren camper for eight summers, and she spent six years on Warren's staff team. During her time on staff she led a number of activities, including sailing and archery. In 2016, Jeanna served as Warren's summer program coordinator and as an administrative coordinator with the YMCA Camping Team in the Twin Cities.
Before serving as Warren's program director this past summer, Jeanna spent four years on the YMCA of the North's Mission Advancement team, working across the Y association on annual fund efforts, grant-funded program evaluation, events, estate gifts and endowment funds. 
Jeanna holds a bachelor's degree from Hamline University, where she studied cross-cultural communication through English and Philosophy. She loves reading and writing, all sorts of crafting, snowshoeing each winter, and anything to do with nature.
We recently asked Jeanna to answer a few questions, camp-style.
Q: Most important question first. What's your favorite camp song?
A: I like Bear Hunt and the Mule Song, but my absolute favorite is Camp Warren Trail!
Q: What are you most excited for, especially as you think about your first summer as executive director?
A: Camp Warren was unable to operate summer programming in 2020, and the summer of 2021 was also affected by the COVID-19 pandemic. We realized this summer that this was the first opportunity for many of our campers to truly socialize with their peers since the pandemic started – it meant that the camp experience was even more important. This has been such an opportunity to reexamine the incredible value of outdoor experiences and the place Camp holds in youth development. With what we've learned in recent years, we are better equipped to serve our participants going forward. I really believe the summer of 2022 will be a great one for our campers and community.
I'm definitely looking forward to celebrating our 95th Anniversary in 2022! These celebrations always bring alumni and family members together in fantastic ways, and I'm excited for all the reconnections. I love hearing everyone's camp stories!
Q: Tell us about one or two of the initiatives at camp you care about deeply.
A: Camp Warren's Diversity, Equity, and Inclusion Committee has been really engaged in looking at our camp programs through every lens possible. The young people at Camp (both campers and staff) are committed to driving this work; it's clear to me that our community wants to make sure Warren is welcoming to all. Exciting aspects of these efforts will be making new connections locally, in Eveleth and Virginia, as well as building our partnerships within the Y of the North to connect youth in the Twin Cities with Camp Warren.
Q: When you're not answering emails, examining spreadsheets, or bailing boats at the Hitch Deck, you're…
A: I love working with the staff team on ways to improve our programs. Warren's skill-progression and peer-teaching methods are something I really believe in, and I enjoy working with staff on creative, intentional lesson plans. Plus, our counselors have such amazing ideas about trips Warren could offer, programs we could host year-round, and everything in between. 
If you would like to contact Jeanna, please reach out at Jeanna.Nesbitt@ymcanorth.org.