SUPPORT CAMP NORTHERN LIGHTS
Annual Giving Program
We ask for your support to ensure that family camp experiences are available to ALL. Your gift strengthens families—and in turn strengthens communities.
As always, we are committed to working diligently to serve our campers and meet the needs in our community. As we live through a time in which our world continues to become more virtual and fast paced, feeling an authentic connection can be a challenge for some people. Camp Northern Lights is hopeful to be a place where families can come together for a much-needed vacation- for adventure on the lake, relaxed time together around the campfire and a safe and healthy place to connect with others.
In 2021, more than 100 families received financial assistance for a family camp experience totaling over $100,000. Many of our scholarship recipients have never been on a family vacation, paddled a canoe or been to Northern Minnesota. Your donation makes these life-changing experiences possible for all families, regardless of income.
With your help, YMCA Camp Northern Lights can:
Offer camp scholarships so that no one is turned away due to financial need
Purchase essential program equipment and supplies
Provide quality training programs for camp staff
Matching gifts
Most companies match gifts to YMCA camping programs. Contact your human resources department today, and double your gift to camp.
Become a Sustainer
Please consider becoming a sustaining donor by giving a recurring monthly donation. Camp Northern Lights is not just a summer experience but serves families year-round. Even just $10 a month earns you this special vinyl sticker (for your water bottle, laptop, etc.) that identifies you as a sustainer. Please help keep the sauna fires burning year-round by becoming a sustaining donor. Simply click the box "Make this a recurring gift" when making your donation.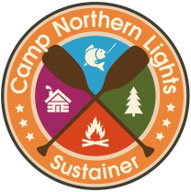 How to donate
We can process your gift online or by check, deferred billing, monthly credit card billing, EFT and donation of securities. We accept Visa, MasterCard, Discover and American Express. We are a nonprofit 501(c)(3) organization. Your gift is fully tax-deductible.
You can also sign-up to be a sustaining giver! Pick your monthly contribution amount and check the "Make this a monthly gift" box!
Taking S.T.E.P.S. Initiative
The mission of the Taking S.T.E.P.S. (Supporting the Transformation of Equity and Power in outdoor Spaces) Initiative is to thoughtfully and intentionally create space for families who historically have been underrepresented at YMCA family camps.
Since 2020, we have raised approximately $75,000 from a mix of grassroots fundraising, major donors, and grants to cover the costs of facilities, coordination, and leadership development program participant fees for our S.T.E.P.S. sessions.
In the summer of 2022, we are doubling our S.T.E.P.S. sessions, have launched a tiered pricing system so families can choose how much they would like to pay, and anticipate serving another 56 families.
To make a gift, please donate online to our Equity in the Outdoor Fund. Please contact Angela Wunderlich at 612-465-0515 to learn more information.
Camp Northern Lights Wish List
Help us improve our programming and facilities. Please contact daniel.obrien@ymcanorth.org and we will coordinate drop-off, pick-ups, and provide an in-kind donation form for tax purposes.
More ways to give
Major Giving Opportunities
Camp has exciting project, program and capital giving opportunities. If you want to impact Camp Northern Lights today, please contact Dan O'Brien, Executive Director, at daniel.obrien@ymcanorth.org or 763-230-6527 to learn more.
Camp Northern Lights Endowment Fund
A great way to support Northern Lights is through a personal gift to the endowment fund, either as an immediate donation or as a gift in your estate plan. To make an endowment gift, please contact Kari Rambo, the Y's Senior Director of Planned Giving, at Kari.rambo@ymcamn.org or (612) 330-3074. We are deeply honored to be remembered by our friends in such a personal and significant way.
Living tribute and memorial gifts
Honor someone special, either in memory or on a special occasion, like a birthday, wedding, anniversary or holiday. Your thoughtfulness will be appreciated, and the gift will have a lasting impact. Please contact Carolyn Caswell in Mission Advancement at 612-371-8707 for more information.
Planned giving opportunities
Create a legacy that will impact camp for generations – a gift in your will, IRA, insurance policy, bank account, trust or other estate instrument. Not only can this provide a tax benefit to you and your heirs, but it will bring priceless benefit to our camp community long into the future. Please contact Kari Rambo, the YMCA's Senior Director of Planned Giving, at Kari.Rambo@ymcanorth.org or (612) 330-3074, for more information.