Support Camp du Nord
In these uncertain and challenging times, we are all reflecting more on what really matters. Since 1961 we at Camp du Nord have said that is family and friends, community, and connections to the great north woods. We have provided countless families the opportunity to come north, unplug, reconnect, explore nature, and grow as individuals and families. Those values continue and we are even more committed than ever to serve our extended community.
Each year during our Annual Campaign, we ask for your support to keep a long-standing tradition of exceptional family camp experiences alive and well for more families. Your gift strengthens families—and in turn strengthens communities. With our current abrupt economic downturn that support means even more, reaching out a hand to families hardest hit but still valuing time in the woods for all the benefits a week at Camp du Nord provides.
In 2019, more than 150 families received financial assistance totaling over $120,000. Many of our scholarship recipients have never been on a family vacation, paddled a canoe or been to Northern Minnesota. Your donation makes these life-changing experiences possible for all families, regardless of income.
With your help, YMCA Camp du Nord can:
Offer camp scholarships so that no one is turned away due to financial need
Purchase essential program equipment and supplies
Provide quality training programs for current and future camp staff
Become a Sustainer
Please consider becoming a sustaining donor by giving a recurring monthly donation. Camp du Nord is no longer just a summer experience but serves families year-round. Even just $10 a month earns you this special vinyl sticker (for your water bottle, laptop, etc.) that identifies you as a sustainer. Please help keep the sauna fires burning year-round by becoming a sustaining donor. Simply click the box "Make this a recurring gift" when making your donation.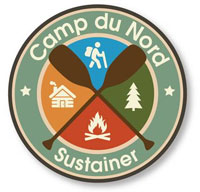 How to donate
We can process your gift online or by check, deferred billing, monthly credit card billing, EFT and donation of securities. We accept Visa, MasterCard, Discover and American Express. We are a nonprofit 501(c)(3) organization. Your gift is fully tax-deductible.
YMCA of the North
Camp du Nord
NW 5901
P.O. Box 1450
Minneapolis, MN 55485-5901
Matching gifts
Most companies match gifts to YMCA camping programs. Contact your human resources department today, and double your gift to camp.
Major Giving Opportunities
Camp has exciting project, program and capital giving opportunities. If you want to impact Camp du Nord today, please contact Andy Sinykin, Executive Director, at Andy.Sinykin@ymcanorth.org or 763-230-9312 to learn more.
Endowment Fund
The Endowment Fund provides annual income to sustain Camp du Nord's programs and operations. In challenging economic times earnings from the endowment become increasingly important. Our commitment to strengthening families in a wilderness setting, inclusive of all participants, while developing the next generation of camp and community leaders steeped in the YMCA's core values is directly tied to the camp's overall financial wellbeing.
One of the camp's key goals is to create a more stable and sustainable financial model that relies much less heavily upon camper and participant fees so that:
All families, regardless of financial resources, are able to participate; 
Unpredictable and temporary increases in expenses have a less dramatic impact upon camper fees;
Costs associated with going to camp are manageable for more families.
A $5 million Endowment Fund will assist greatly in making du Nord's programs accessible to the widest range of campers, recruiting and training stellar staff and offering quality equipment and distinctive facilities in a serene, beautiful setting.
To make an endowment gift, please call us at 651-645-6605. We are deeply honored to be remembered by our friends in such a personal and significant way.
Heritage Club
We recognize endowment donors through the Camp du Nord Heritage Family. Heritage Family members help strengthen families through exceptional programs in a natural setting.
More Ways to Give
Living tribute and memorial gifts
Honor someone special, either in memory or on a special occasion, like a birthday, wedding, anniversary or holiday. Your thoughtfulness will be appreciated, and the gift will have a lasting impact. Please contact Carolyn Caswell in Mission Advancement at 612-371-8707 for more information.
Planned giving opportunities
Create a legacy that will impact camp for generations – a gift in your will, IRA, insurance policy, bank account, trust or other estate instrument. Not only can this provide a tax benefit to you and your heirs, but it will bring priceless benefit to our camp community long into the future. Please contact Kari Rambo, the YMCA's Senior Director of Planned Giving, at Kari.Rambo@ymcanorth.org or (612) 330-3074, for more information.
Camp du Nord Wish List
Help us improve our programming. We are in need of the below items! Please contact info@dunord.org and we will coordinate drop-off, pick-ups, and provide an in-kind donation form for tax purposes.
New Refrigerators - please contact us for details
Carlisle Tumblers - 8 oz. and 16 oz.
Corelle Dishes (bowls, plates)
Silverware (Forks, Knives, Spoons)
Pots and Pans
Cooking Utensils
Serving Bowls
Cutting Boards
Platters
Kitchen Knives
Axes
Tents Eureka 4 Person Timberline Tent
Cook kits
Fishing Poles
Life Jackets
Paddle Boards
Kayaks
Canoe Paddles
Kayak Paddles
Charcoal Grills
Pack N Play
BOB Strollers
Arts and Crafts Supplies
Scissors
Paint Brushes
Watercolor Kits
Wood burning Kits
Glue Guns
Yoga Mats
By The Yard Patio Furniture