2211 Vine St.
Hudson, WI 54016
United States
Full-day Child Care Hours:
Part-day Preschool Hours:
Preschool: Monday-Friday, 9 to 11:30am
2, 3, and 5-day options
Hudson Community 4K Program: Monday-Friday, 12:30 to 3:10pm
5-day option only
4K Program Extended Care: Monday-Friday, 9am to 12:30pm
Hudson YMCA offers part-day preschool, Hudson Community 4K, and extended day programs to provide busy families with quality, affordable early childhood education. On-site amenities include a kids' gym, playfield, smart board, swimming pool and more.
Pricing information
Every family deserves quality care to thrive. We offer competitive tuition rates and registration fees. Need-based scholarships are available. Contact us at (715) 386-1616 to schedule a visit and discuss tuition rates.
Ages & adult-to-child ratios
33 months to 4 years
Part-day program
1:10
4 to 5 years
Part-day program
1:10
Meet the directors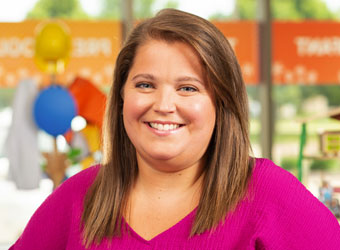 Katherine Jury
Preschool Program Director
Katherine is a graduate of Minnesota State University–Mankato in Elementary Education. She joined the Y in 2006 and lead the Eagan YMCA Preschool program from 2012 - 2018. She enjoys spending her free time outdoors, at sporting events and trying new restaurants with friends and family.
Katherine's favorite thing about her day is hearing the students say, "Good morning!" and watching the teachers and children interact with each other. She is dedicated to the YMCA ECLC children and an advocate for early childhood education.
Curriculum & Philosophy
We use the Creative Curriculum® to develop age-appropriate experiences that foster joyful learning. For each child, we address individual needs, build skills for success and incorporate STEM activities. Pairing our curriculum with the YMCA Healthy Kids Initiative, we also provide exposure to healthy eating, nutrition and physical activity for children and their families. 
On-site amenities
Kids' gym
Outdoor garden
Playfield
Playground
Smart whiteboards
Swimming pool
Enrichment Programs
Learning at Hudson YMCA Preschool, 4K and Extended Day programs lets your child express themselves and engage in social activities that get them ready to enter kindergarten.
Kids' Fitness
Language–Spanish and American Sign
Music and Movement
Multicultural Studies
Cooking
Policies
Providing a safe, secure and predictable environment is a top priority for every YMCA Early Childhood Learning Center. For more information about our policies go to:
About Part-Day Preschool
Our Part-day Preschool program prepares kids for school success and utilizes the same research based curriculum found in our full-day care and education programs. Graduating preschoolers meet or exceed school district standards. Part-day Preschool can be extended by adding our Extended Day program. To register, download registration packet forms below.
Registration Information for Part-day Preschool
Forms & Paperwork
Parent Referral Program
If you love your Early Childhood Learning experience, spread the word and get rewarded!
It's easy to make a referral. Pass on the referred parent's name, along with some basic information about the family to your program director.
Complete the parent referral form and give it to your program director.
After the new family has enrolled at any of our Early Childhood Learning Center locations and stayed for at least four weeks, you'll receive a week's free tuition for your oldest child.
You can refer as many families as you'd like to earn more. Every time a child is enrolled as a result of your recommendation, you'll get a week's free tuition.
Discuss tuition rates, meet our staff and see our facility in person with a guided tour from our Program Director. Request a tour and we'll reach out to you shortly to find a time to visit.