Who You Will Meet at Ihduhapi
Because we know staff is the most important part of a camp experience, we take great care to hire and train qualified, enthusiastic staff. We look for leadership skills, prior experience working with children, decision-making capabilities, respect for the environment and safety awareness.
Our year-round staff includes an executive director, outdoor learning program director, day camp program director and site manager. During the summer, we bring in high school, college and graduate students as counselors and specialists.
All staff members are certified in CPR and First Aid. Waterfront specialists are certified lifeguards, and as required, others are certified as an EMT, First Responder or have been trained in Wilderness First Aid.
Jana Graczyk, Executive Director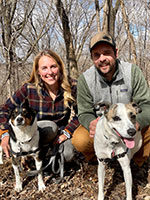 Phone: 763-230-9309
Email: Jana.Graczyk@ymcanorth.org
I've worn a few hats at Ihduhapi, previously serving as the Day Camp Director and Overnight Camp Program Director, and now Executive Director.
Having the opportunity to attend summer camp truly changed the trajectory of my life – it's where I gained confidence, met life-long friends (and my husband, Nick), connected with the natural world and built a career! I earned my BA in Hispanic Studies and Biology from the College of Saint Benedict, where I made money tapping trees and boiling sap at the Saint John's Arboretum. After undergrad, I volunteered as a teacher in Puerto Rico, worked as a Naturalist at Wolf Ridge Environmental Learning Center, worked as an Outdoor Instructor at YMCA Camp Widjiwagan and then made my way to Camp Ihduhapi. I also served as the Program Director at YMCA Camp Warren and recently finished my Master of Arts in Education, Environmental Education and Natural Science degree at Hamline University.
Camp Ihduhapi is such a gem, hidden just outside the twin cities. Every time I drive down the camp road, the huge maple tree canopy draws me in and I feel home. I am looking forward to maple syruping this spring, foggy mornings on the boardwalk this summer, brilliant leaves this fall, and skijoring the trails with our pups Tucker and Mai next winter. I cannot wait to continue providing space for growth, friendship, self-discovery and community for future generations to come!
Eric Fallon, Day Camp Program Director
Phone: 763-230-9308
Email: Eric.Fallon@ymcanorth.org
Rachel Murray (she/her), Outdoor Learning Program Director
Phone: 763-392-0516
Email: Rachel.murray@ymcamn.org
I'm so grateful to call Camp Ihduhapi my work-home and to have a career in a field where I get to breathe fresh air, provide opportunities for individuals to challenge themselves in healthy ways, and to help others discover how to value each other / work productively together! After moving to Minnesota in the summer of 2019, I started working seasonally at Camp Ihduhapi as an Outdoor Education and Teambuilding Instructor and moved into the Outdoor Learning Program Director role in May 2021.
Prior to Camp Ihduhapi, I've served in management roles in challenge course/outdoor experiential education programs at Loyola University Chicago, Western Illinois University (Macomb, IL), U.S. Space Camp (Huntsville, AL), and Lakeshore Center at Okoboji (Milford, IA). I also bring ACCT (Association for Challenge Course Technology) Level 2 Practitioner, American Red Cross First Aid/CPR Instructor, and Gallup CliftonStrengths Coach certifications to the team. I hold a Bachelor of Music Education degree from Wartburg College (Waverly, IA) and a Master of Science in Recreation, Park and Tourism Administration from Western Illinois University.
When not at work, I love to play cards (pinochle or 500 anyone?) and board games with my partner Jeremy, go hiking with our dogs Baze and Kreacher, discover more state and regional parks in Minnesota via hiking, camping, and paddling, and to make music with my family and friends. I hope to see you at Camp Ihduhapi this Fall, Winter, and Spring – please feel free to reach out to discuss how we might be able to serve your group!
Walker Nyenhuis (he/him), Outdoor Learning Program Coordinator
Phone: 952-403-4797
Email: Walker.Nyenhuis@ymcamn.org
Hello! My role at Camp Ihduhapi centers around one objective: connecting people with each other and the outdoors. I love welcoming groups to camp and facilitating experiences that folks will remember for years. Paddling the St. Croix River and playing Thicket in the forest near my childhood home are some of my oldest and fondest memories, and I could not be more excited to share similar experiences with your group!
Professionally, my life as an outdoor educator began at Wilderness Canoe Base in the Boundary Waters Canoe Area Wilderness. After guiding canoe trips for three seasons and graduating from Luther College in northeast Iowa, I began training as a naturalist at Eagle Bluff ELC and learning about the evolving field of environmental education. I then had the privilege of "coast hopping" between Washington and New York State for three years as I cultivated my teaching practice at YMCA Camp Seymour, Frost Valley YMCA, and IslandWood. Moving back to Minnesota, living and working through a pandemic, and completing my Master of Arts in Education with a focus on Natural Science and Environmental Education have all helped me learn and grow as a youth development professional in recent years.
I love travel (especially by bike or boat), cooking, music, and movies. If I'm not at camp, I am most likely exploring with my spouse Alison and our rambunctious pup River. I hope to meet you at Ihduhapi sometime soon!
Dan Kellander, Property Manager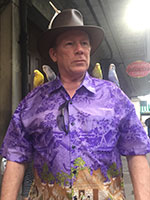 Phone: 763-230-9305
Email: Dan.Kellander@ymcanorth.org
I joined the staff at Camp Ihduhapi in March of 2016. While my title is Property Manager, I like to tell the other staff that my job is to make their jobs easier. Having started out working at Camp Shamineau in high school, I soon came to realize that all jobs at a camp are related to each other. I think that is why I love working at camp so much. It gives you a sense that you are truly making a difference in people's lives no matter what your role is. It is one of the reasons that I earned a bachelor's degree in parks, and recreation with an emphasis in camp programming.
After a few years working at camp I entered youth ministry for the next 25 years. I really love working with youth of all ages. That is what makes working here so fun. Being able to be around the enthusiasm that young people bring to everything. I am currently working towards getting a master's degree in World War II history. When I am not working or studying, I love to play sports of all kinds, especially broomball and football. I also like to travel, read, and spend time with family. I look forward to seeing smiles on the faces of everyone who visits Camp Ihduhapi. Welcome!
Kaarin Mantz, Administrative Team Lead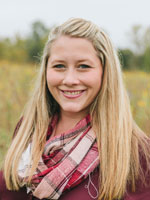 Phone: 651-259-2110
Email: Kaarin.Mantz@ymcanorth.org
I joined the camping team in 2018 as the Administrative Lead based in Minneapolis. I'm thrilled that after starting at the Y in Aquatics in 2009 my journey has lead me to where my passion for outdoor experiences and talents can serve the Warren community. I can help you plan your fall, winter or spring experience at Ihduhapi, assist with scholarships and answer any questions you may have about Ihduhapi or any of our YMCA of the North camps. The outdoors has always held a special place in my heart because I've experienced the impact that programs and time in nature can have on individuals and families. Some of my favorite outdoor experiences include family hikes with my three young children, Boundary Waters trips and spending time paddling in the cedar strip canoe my husband built.