Who You Will Meet at Ihduhapi
Because we know staff is the most important part of a camp experience, we take great care to hire and train qualified, enthusiastic staff. We look for leadership skills, prior experience working with children, decision-making capabilities, respect for the environment and safety awareness.
Our year-round staff includes an executive director, outdoor learning program director, day camp program director and site manager. During the summer, we bring in high school, college and graduate students as counselors and specialists.
All staff members are certified in CPR and First Aid. Waterfront specialists are certified lifeguards, and as required, others are certified as an EMT, First Responder or have been trained in Wilderness First Aid.
Laura Villano, Executive Director
Phone: 612-371-8780
Email: Laura.Villano@ymcanorth.org
I've worn many hats in the camp world – camper, staff, board member and now executive director. My experience as a camper taught me how to be self-reliant, open-minded, and what it means to be a good friend. As staff, I learned how to be a servant leader and a steward of the wilderness. My time on the community board solidified how important it is to give your time to a community that gave so much to you.
I am honored to serve the Ihduhapi community and to uphold 90 years of tradition while continuing to evolve our programming to meet the needs of the community we serve.
Andy Sinykin, Outdoor Learning Program Director
Phone: 763-230-9312
Email: Andy.Sinykin@ymcanorth.org
I joined the Ihduhapi staff team in January of 2018 as the Outdoor Learning Program Director, though Y camps have been a part of my life for over 30 years. I was introduced to Y camps at Camp du Nord in 1989 when I was only five years old. After years as a camper, I became a seasonal staff member, and then moved into a director position.
I am a huge believer in the value of camp. Whether participants are at camp for the afternoon as part of a climbing group, or attending summer camp for a full session, getting outdoors and communing with others brings incredible value to both individuals and communities. I love providing folks of all ages with the opportunity to get outside and challenge themselves in new ways.
When I am not at camp I enjoy running, yoga, reading, watching sports, and hanging out with my dog Fozzy!
Eric Fallon, Day Camp Program Director
Phone: 763-230-9308
Email: Eric.Fallon@ymcanorth.org
Dan Kellander, Property Manager
Phone: 763-230-9305
Email: Dan.Kellander@ymcanorth.org
Kaarin Mantz, Administrative Team Lead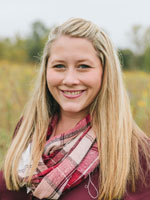 Phone: 651-259-2110
Email: Kaarin.Mantz@ymcanorth.org
I joined the camping team in 2018 as the Administrative Lead based in Minneapolis. I'm thrilled that after starting at the Y in Aquatics in 2009 my journey has lead me to where my passion for outdoor experiences and talents can serve the Warren community. I can help you plan your fall, winter or spring experience at Ihduhapi, assist with scholarships and answer any questions you may have about Ihduhapi or any of our YMCA of the North camps. The outdoors has always held a special place in my heart because I've experienced the impact that programs and time in nature can have on individuals and families. Some of my favorite outdoor experiences include family hikes with my three young children, Boundary Waters trips and spending time paddling in the cedar strip canoe my husband built.