Because we know staff are the most important part of a camp experience, we take great care to hire and train qualified, enthusiastic staff. We look for leadership skills, prior experience working with children, decision-making capabilities, respect for the environment and safety awareness.
All staff members are certified in CPR and First Aid. Waterfront specialists are certified lifeguards, and as required, others are certified as an EMT, First Responder or have been trained in Wilderness First Aid.
Executive Director – Michel Tigan
My career with the YMCA began in 1995 as a CIT at YMCA Camp St. Croix. A long time Croix camper and passionate outdoor enthusiast, I fell in love with motivating a new generation of campers. I continued on Staff at Camp St. Croix through 2001 where I had the opportunity to lead the Leadership Development Program that had been so formative in my life. Upon graduation from the University of St. Thomas, I spent 2 years as an AmeriCorps Volunteer teaching Environmental Education in midcoast Maine. For the past 18 years, I have been a nonprofit Executive in the St. Croix Valley, most recently with Big Brothers Big Sisters and YMCA Camp Icaghowan.
My husband Matt and I have 3 children whose summers have been spent camping due to the passion of their parents. I believe that camping inspires children to rise to the occasion, to believe in all that they are, and to trust that they can accomplish more than they may have believed. I am honored to be able to share the camping experience with your children, and feel blessed to have this opportunity to inspire wonder and awe in all campers at YMCA Camp St. Croix. I believe in the mission of the YMCA and will do my best to honor tradition, history, and the four core values in the programs offered at Croix.
I know that camp is built upon those that have loved and will love it, so together let's inspire magic. Please contact me any time by email or by phone at: 612-230-3478.
Overnight Camp Program Director – Gretchen Hoff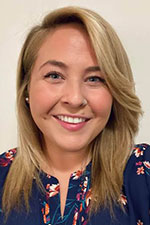 Hello Camp St. Croix! I am so excited to be joining this stellar team at this amazing camp. I grew up going to summer camp, primarily at YMCA Camp Icaghowan, participating in traditional camp, rock climbing camp, canoe trips and teen leadership programming, then went on to be on staff from 2009 to 2015. I started as a cabin staff member, then lead teen leadership programs and tripping programs, then went on to be on the program staff in the Tripping Director role, and finally the Venture Unit Leader (Girls' Unit Leader) role. My time at camp as a camper and staff member absolutely shaped my life, and who I am today, and I have always felt a strong connection to camping, the outdoors, and the life-changing experiences Y camps can provide for all.
I studied Business at Augsburg College in Minneapolis, and went on to work in recruiting and staffing for the past 5 years. I have served on the YMCA Camp Icaghowan community board for the past 5 years, and have continued to build on my passion for Y camping during that time. I am so excited to dive into my new Program Director role with Croix, and help to build out an amazing staff team, stellar programming, and a strong camp community. I look forward to meeting you all, in time!
To contact Gretchen about summer overnight programming please email: Gretchen.hoff@ymcanorth.org or call, 952-913-6704.
Sr. Program Director; Day Camps DayCroix, Spring Lake, and Heritage – Amy Rowan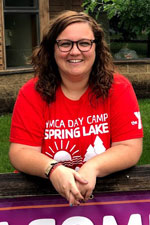 Hi! I'm Amy Rowan and I am your Day Camp Program Director. I have been in the camp world for eight years, running Camp Spring Lake. I now get the opportunity to run DayCroix as well! I truly enjoy experiencing the Camp Magic each summer through the eyes of our campers. There is nothing like it! I am excited to be a part of your summer adventures.
"If we want our children to move mountains, we first have to let them get out of their chairs." ~Nicolette Sowder  I'm a big believer in learning by doing. I think all youth can be change makers, if we give them the right tools- including access to nature. Our job at day camp is to foster the learning and developing in and around nature. If campers come home tired, dirty, and happy then it was a successful day at camp! I can't wait to be a part of the growth of our campers and staff!
If you have any questions about DayCroix or Day Camp Spring Lake, our programs, or jobs that are available, please feel free to contact me by email or phone at 651-319-8010.
Farm Program Director, Grow and Gather Farm – Anna Zimmer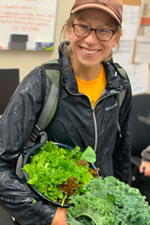 I grew up outside, while most of that time was spent in the garden at home. We grew our food, and I learned how to eat it and enjoy it at a young age. As I got older I realized that most children didn't have this same connection to wholesome food, or knowledge to grow it and eat it, like I did. For this reason, I graduated from UW-River Falls with a degree in horticulture so I could help educate young people about the importance of vegetable gardening and growing food. Following graduation I worked two years at the Como Park Zoo and Conservatory as a Horticulture Educator and Assistant Gardener which made me even more aware of the gardening deficiency in young people. In 2015 I learned about Camp St. Croix, saw the incredible potential for agriculture education there, and learned of the community that had been created in the St Croix Valley because of the connections made at camp. Watching Camp St. Croix's Grow and Gather Farm expand since 2015 has been exciting and fulfilling as we see it meeting educational and physical needs, as well as needs in our community.
If you have questions about Grow and Gather Farm at Camp St. Croix, or would like to volunteer, please contact me by email. I look forward to meeting you!
Kitchen Manager – Beth Lewis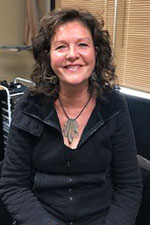 Hi Camp St. Croix! I've loved serving camp for over 5 years, and look forward to the continued work we are doing here in the kitchen and beyond. I love seeing a camper smile because they've enjoyed a great meal with us. Camp is such a great place for me, as I love hiking, walking, canoeing and anything on the river. My favorite camp songs include You Are My Sunshine and Edelweiss. I look forward to many more seasons of seeing the excitement on a campers face as they enter the dining hall for their next great meal, and smelling the campfires from afar.
If you have any questions about our Camp Kitchen at Croix, you can email: Elizabeth.Lewis@ymcamn.org
Food Service Manager – Nicole Wirth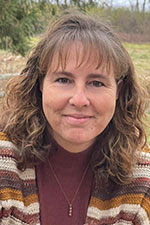 Hello! I'm excited to be stepping into the role of Food Service Manager for Camp St. Croix along with Camp Icaghowan up the road in Amery. I've been working with Y Camps since 2015, and have enjoyed getting to know Camp St. Croix better in 2021. My favorite spot at camp is hanging out at the chicken coop on our grow and gather farm. I love nature and getting out for a quite walk in the woods, and the thing I love most about camp is witnessing the community, and bonding of young people who come together at the meal table in the dining hall.
If you have any questions about Food Service at camp, you can email: Nicole.Wirth@ymcamn.org