Because we know staff are the most important part of a camp experience, we take great care to hire and train qualified, enthusiastic staff. We look for leadership skills, prior experience working with children, decision-making capabilities, respect for the environment and safety awareness.
All staff members are certified in CPR and First Aid. Waterfront specialists are certified lifeguards, and as required, others are certified as an EMT, First Responder or have been trained in Wilderness First Aid.
Executive Director – Katie Haas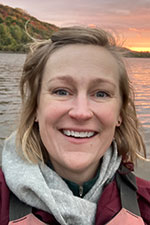 Katie Haas (she/her) lives with her head in the city and her heart in the outdoors. Katie is honored to be part of the Croix community as a steward and connector since Spring of 2022. A social worker by trade, Katie is committed to being part of growing and just communities. She is an adventurer who still has learning to sail on her bucket list. Her Y journey began as a Trail Counselor at Camp Menogyn. Katie worked two decades in nonprofits and government sectors, with youth, People with Disabilities, and affordable housing. The common thread in Katie's pursuits is connection to our own selves, our surroundings, and each other; all to restore, grow, and create equitable spaces where we all belong. Also, she loves camp food.
Overnight Camp Program Director – Peter Casey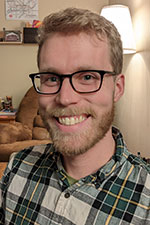 I grew up attending Camp Icaghowan in Amery, Wisconsin.  I made great friends and amazing memories as a part of those programs, and as soon as I was old enough, I applied to be on staff there. I worked seasonally at Icaghowan for 8 years as a cabin counselor, waterfront director, unit leader, and program coordinator. While doing so I attended the University of Glasgow where I got a degree in History and Politics. My love of camp and working with young people led me to full-time roles as the program director at YMCA Camp Miller in Sturgeon Lake, MN and the adventure program director at Camp Newaygo in Michigan.
My partner Angie and I live in Minneapolis with our two dogs Crater and Sage. We all enjoy camping, hiking, cross-country skiing, canoeing, and generally spending time outdoors. The dogs love to come to camp to be outdoors and spend time with kids. I feel so lucky to be the Overnight Program Director at Camp St Croix where I can instill a love for camping in your children. I am honored by the opportunity to continue the mission, vision and values of YMCA Camp St Croix for the next generation of young people.   
Sr. Program Director; Day Camps DayCroix, Spring Lake, and Heritage – Amy Rowan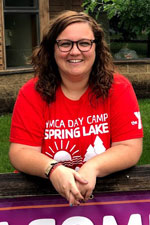 Hi! I'm Amy Rowan and I am your Day Camp Program Director. I have been in the camp world for eight years, running Camp Spring Lake. I now get the opportunity to run DayCroix as well! I truly enjoy experiencing the Camp Magic each summer through the eyes of our campers. There is nothing like it! I am excited to be a part of your summer adventures.
"If we want our children to move mountains, we first have to let them get out of their chairs." ~Nicolette Sowder  I'm a big believer in learning by doing. I think all youth can be change makers, if we give them the right tools- including access to nature. Our job at day camp is to foster the learning and developing in and around nature. If campers come home tired, dirty, and happy then it was a successful day at camp! I can't wait to be a part of the growth of our campers and staff!
If you have any questions about DayCroix or Day Camp Spring Lake, our programs, or jobs that are available, please feel free to contact me by email or phone at 651-319-8010.
Farm Program Director, The Farm at Camp St. Croix – Anna Zimmer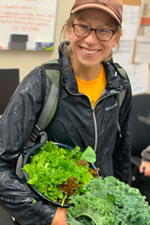 I grew up outside, while most of that time was spent in the garden at home. We grew our food, and I learned how to eat it and enjoy it at a young age. As I got older I realized that most children didn't have this same connection to wholesome food, or knowledge to grow it and eat it, like I did. For this reason, I graduated from UW-River Falls with a degree in horticulture so I could help educate young people about the importance of vegetable gardening and growing food. Following graduation I worked two years at the Como Park Zoo and Conservatory as a Horticulture Educator and Assistant Gardener which made me even more aware of the gardening deficiency in young people. In 2015 I learned about Camp St. Croix, saw the incredible potential for agriculture education there, and learned of the community that had been created in the St Croix Valley because of the connections made at camp. Watching The Farm at Camp St. Croix expand since 2015 has been exciting and fulfilling as we see it meeting educational and physical needs, as well as needs in our community.
If you have questions about The Farm at Camp St. Croix, or would like to volunteer, please contact me by email. I look forward to meeting you!
Outdoor Education and Adventure Program Director – Brian Geisler
Hello! My name is Brian Geisler and I am the Outdoor Education and Adventure Program Director. I am so excited to serve camp and the YMCA in this role. After graduating from Northern Michigan University with a degree in Outdoor Recreation Leadership and Management, I've served several Midwest camps in exciting positions such as Canoe & Backpacking Guide, Trip Director, Outdoor Education Instructor (at Camp St. Croix), Summer Program Director and Family Outdoor Adventure Coordinator.
I've returned to Camp St. Croix after receiving a Master's of Education degree from the University of Minnesota and am so honored to work and serve with amazing staff, group leaders and teachers, as well as so many amazing participants, campers, and students.  
Please feel free to contact me for any questions about our Environment Education and Team Building Adventures. I hope to see you at Camp St. Croix very soon!
Events and Retreats Coordinator – Theresa Douglas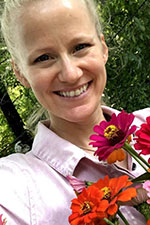 We host a wide variety of Events and Retreats at Camp St. Croix which feed our mission, from community partnerships and leadership conferences to weddings and festivals! Details are executed by our dynamic staff and coordinated by Theresa Douglas.
Food Service Manager – Nicole Wirth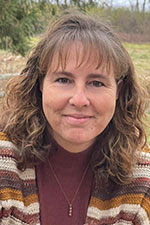 Hello! I'm excited to be stepping into the role of Food Service Manager for Camp St. Croix along with Camp Icaghowan up the road in Amery. I've been working with Y Camps since 2015, and have enjoyed getting to know Camp St. Croix better in 2021. My favorite spot at camp is hanging out at the chicken coop on our farm. I love nature and getting out for a quite walk in the woods, and the thing I love most about camp is witnessing the community, and bonding of young people who come together at the meal table in the dining hall.
If you have any questions about Food Service at camp, you can email: Nicole.Wirth@ymcamn.org