Because we know staff are the most important part of a camp experience, we take great care to hire and train qualified, enthusiastic staff. We look for leadership skills, prior experience working with children, decision-making capabilities, respect for the environment and safety awareness.
All staff members are certified in CPR and First Aid. Waterfront specialists are certified lifeguards, and as required, others are certified as an EMT, First Responder or have been trained in Wilderness First Aid.
Executive Director - Amy Schneider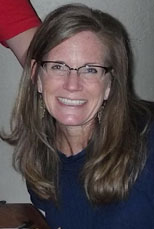 My career with the YMCA began in 1998 when I married the Program Director of YMCA Camp Menogyn, Nick Schneider. From Menogyn, Nick and I moved to California and worked at YMCA Camp Jones Gulch, and in 2001 we moved to Chicago to manage the Vertical Endeavors indoor climbing gym. From 2004–2009, I had the honor of being the Program Director at YMCA Camp du Nord. I am now thrilled to be the Executive Director at YMCA Camp St. Croix.
Nick and I have twin boys who know nothing other than the lifestyle of YMCA camping. I feel blessed to provide similar experiences for your family. I believe that camping affords people of all ages with an opportunity for self-discovery and a chance to experience the awe and wonder of the natural world. I support the mission of the YMCA and promise to do all I can to ensure these values play out everyday in the programs offered at YMCA Camp St. Croix.
Please contact me any time by email or by phone: 612-465-0567.
Outdoor Education Director - Hart Olson
Woods, water and wildlife. That is how I connected to the world around me growing up on a lake in Minnesota's north woods. It is a far cry from how many "connect" today in a world surrounded by technology. Having served on the Outdoor Education team as an Instructor, it is a great privilege to continue contributing to the program in the Director role.

The atmosphere of the Outdoor Education Program fosters personal connection with character development, healthier team dynamics, and the incredible natural resources that we are blessed with in Wisconsin and Minnesota. Where there is personal connection, there is investment which leads to ownership and stewardship. Having worked in camping and student development since 2008, as well as earning my M.A. in Strategic Leadership, it is evident Camp St. Croix's Outdoor Education Program has never been more influential in developing the leaders of today and tomorrow.
I believe camp is formational in developing some of the most fun, confident, and high in character people. My wife, Caitlin, spent every summer at YMCA Camp du Nord as a camper and staff. We share common passions for camping, the outdoors, and the character it develops. We feel blessed to be able to raise our two boys as part of YMCA Camping at Camp St. Croix.
If you're interested in getting your group outdoors or developing your team, please contact me by email or at 612-465-0569.
Events and Retreats Coordinator - Niccole Drinkwine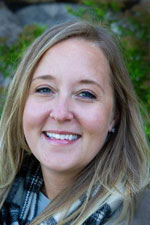 My love of Camp St. Croix began over four years ago when I began working part time while being a stay at home mom to my two sons; Riley and Ethan. I immediately fell in love with the beauty, fun and opportunity that all of camps programs have to offer. My husband Kegan and I grew up in the Stillwater/Hudson area and we spend a lot of time enjoying the outdoors, fishing any opportunity we get. 
I am so excited to be the Event and Retreat Coordinator because I believe this amazing place has something to offer everyone. Whether you're looking for the perfect place to help your group/organization refocus and refresh, or looking for a gorgeous venue to host your next special event, there isn't a wrong time, reason, or purpose to find something to enjoy about Camp St. Croix.
If you're looking to get you and your group connected to the outdoors for an event, retreat or wedding I'd love to help. Feel free to email me or give me a call at 612-465-0580.
BOLD & GOLD Program Director - Kurt Simer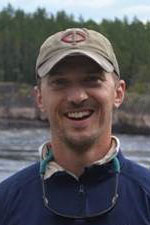 I am excited to be part of the Camp St. Croix team where I will be spending my time growing the nationally recognized BOLD & GOLD program and supervising our overnight program director. I have been with the Y in a full-time capacity for 8 years, first as the Wilderness Program Director at Camp Widjiwagan and then as the BOLD & GOLD Program Director, working with 4 of our Camps to recruit a diverse pipeline of campers. Prior to coming to the Y full-time, I was a counselor at Widji and an Instructor for the National Outdoor Leadership School, teaching backpacking, rock climbing, and whitewater canoeing throughout the west. I love working at Camp, introducing youth and teens to outdoor pursuits they can pursue for a lifetime. I live in Minneapolis with my wife, Fay, daughter, Edith, and an adventure-loving dog named Hank. When not canoeing, hiking, or climbing with my family (or working), I love trivia nights, playing hockey, and completing crosswords.
Please contact me any time by email or by phone: 612-465-0552.
Farm and Garden Program Coordinator – Anna Zimmer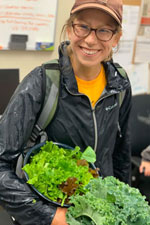 I grew up outside, while most of that time was spent in the garden at home. We grew our food, and I learned how to eat it and enjoy it at a young age. As I got older I realized that most children didn't have this same connection to wholesome food, or knowledge to grow it and eat it, like I did. For this reason, I graduated from UW-River Falls with a degree in horticulture so I could help educate young people about the importance of vegetable gardening and growing food. Following graduation I worked two years at the Como Park Zoo and Conservatory as a Horticulture Educator and Assistant Gardener which made me even more aware of the gardening deficiency in young people. In 2015 I learned about Camp St. Croix, saw the incredible potential for Farm and Garden education there, and learned of the community that had been created in the St Croix Valley because of the connections made at camp. I was honored to begin working at Camp St. Croix as the DayCroix Lead Staff in the garden. Watching our Farm and Garden Program expand since 2015 has been exciting and fulfilling as we see it meeting educational and physical needs!
This is why I am so excited for the next phase of the Farm and Garden Program—high-tunnel farming, creating a year-round education with nearly year-round produce! The impact here is astronomical, and the potential at camp, truly endless. We are at the very beginning of exciting things!
If you have questions about our Farm and Garden Program at Camp St. Croix, or would like to volunteer, please contact me by email. I look forward to meeting you!
Sr. Program Director Day Croix and YMCA of the Greater Twin Cities Day Camp Product Manager - Courtney Danis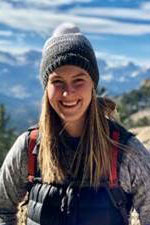 I'm excited to be on the Camp St. Croix team as our Senior Program Director, responsible for DayCroix as well as providing leadership for the 10 YMCA of the Greater Twin Cities day camps. My connection with the YMCA of the Greater Twin Cities started when I was 8 years old, my family first participated in the home school weekends at Camp du Nord, where I eventually took part in the Leadership Development Program through high school. This is where I developed my passion for teaching and camping. After high school, I attended Campbellsville University, KY where I was an all-American all four years and majored in Mathematics and Secondary Education. Throughout those years I spent 3 summers working at YMCA Camp du Nord and the later 3 summers as the Assistant Director at YMCA Camp St. Croix. After graduation, I lived in South Africa for three months teaching. I found myself back in the mid-west pursuing my passion for teaching and the outdoors as an Environmental Education Instructor at Camp St. Croix. I started my full time career with the Y in the scenic mountainous area of the YMCA of the Rockies in Estes Park, CO as the Youth Programs Director overseeing the Day Camp Program for 4 years. I returned to the Twin Cities most recently, in the role of the Program Director for the overnight camp program at Camp Icaghowan in Amery, WI. Camping has been in my blood and a passion since I was young, and I believe that it allows for people of all ages the opportunity for personal growth and life changing experiences.
Please contact me any time by email or by phone: 612-465-0562.
Day Camp Heritage Program Director - Mackenzie Erpenbach
As a child, I spent my summers in a variety of YMCA camps and programs. Camp continued to be a part of my life when I began working at Camp Heritage in 2012. The YMCA has had a tremendous impact on my life and was a large part of my decision to attend the University of Wisconsin, Eau Claire and major in Social Work. The knowledge I have gained through a variety of settings and programs, most notably, working in a Child and Youth Care Center in Cape Town, South Africa, has helped me gather the tools to continue fostering a safe, happy, and healthy environment at Camp Heritage. Camp Heritage is filled with people from all walks of life who come together to create an amazing community. This community is able to give campers the unique opportunity to immerse themselves in nature while creating a culture for personal growth and healthy relationship building. It has been wonderful to be a part of the growing community of amazing staff, children, and families. I am thrilled to have the opportunity to begin this new journey as Program Director and continue to build and grow the Camp Heritage community. 
Please contact me any time by email or by phone: 612-465-0554.
Overnight Program Director - Brice Percy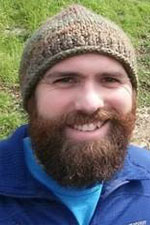 My introduction to the YMCA world was through an internship in 2013 helping establish a pilot site for the Boys & Girls Outdoor Leadership Development program in Chattanooga Tennessee. That experience with BOLD & GOLD, the YMCA and the culture of fostering positive growth through challenging wilderness experience has kindled a passion for providing all youth with the same opportunities for meaningful and impactful outdoor experiences that I have been blessed with. Growing up in Kansas, I would always look forward to the summers when my parents would take my brother and me out to the Pecos National Wilderness in northern New Mexico to go hiking, backpacking, mountain biking and fishing. Those summers spent amidst the towering ponderosa pines and tranquil aspen groves are still cherished memories today. After moving to the southeast as a teenager I have added paddle sports, climbing, disc golf and ultimate frisbee to my list of hobbies enjoyed in the Appalachian Mountains of Tennessee, North Carolina and Georgia. As Richard Louv says: "Passion is lifted from the earth itself by the muddy hands of the young; it travels along grass-stained sleeves to the heart." I have enjoyed a life that has allowed me to explore my passions for outdoor recreation and adventure sports from a young age. It is a blessing to have the opportunity to provide today's youth with formative and cherished experiences of their own at Camp St. Croix.
Please contact me any time by email or by phone: 715-318-1726.