Because we know staff is the most important part of a camp experience, we take great care to hire and train qualified, enthusiastic staff. We look for leadership skills, prior experience working with children, decision-making capabilities, respect for the environment and safety awareness.
Our year-round staff includes an executive director, program director, administrative coordinator and site manager. During the summer, we bring in high school, college and graduate students as counselors and specialists.
All staff members are certified in CPR and First Aid. Waterfront specialists are certified lifeguards, and as required, others are certified as an EMT, First Responder or have been trained in Wilderness First Aid.
Laura Villano, Executive Director
Fall, winter, spring phone: 612-371-8780
Summer phone: 218-744-4222
Email: Laura.Villano@ymcanorth.org
I've worn many hats in the Camp Warren community – camper, staff, board member and now executive director. My experience as a camper taught me how to be self-reliant, open-minded, and what it means to be a good friend. As staff, I learned how to be a servant leader and a steward of the wilderness. My time on the community board solidified how important it is to give your time to a community that gave so much to you.
I am honored to serve you and to uphold 90 years of tradition while continuing to evolve our programming to meet the needs of the community we serve. To help each person see Warren as a place they can come and a place where they can become their most authentic self.
I can't wait to see you on Half Moon Lake!
Jeanna Nesbitt, Program Director
Fall, winter, spring phone: 763-230-6574
Summer phone: 218-744-4222
Email: Jeanna.Nesbitt@ymcanorth.org
Camp Warren has been an incredible constant in my life, whether I was a camper, counselor, volunteer, or YMCA team member. For me, Warren has always been a place to discover and develop, and it has always been a place to practice independence and make new connections. 
I count myself lucky that my role at Warren gives me a chance to help campers grow. There's nothing quite like watching campers gain self-confidence, learn problem-solving skills, and build community. And of course, outdoor adventures provide much-needed opportunities to "unplug" and connect with nature.
I'm looking forward to an amazing summer on Half Moon Lake. See you soon!
Kaarin Mantz, Administrative Team Lead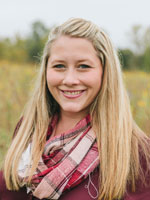 Phone: 651-259-2110
Email: Kaarin.Mantz@ymcanorth.org
I joined the Warren team in 2018 as the Administrative Lead based in Minneapolis. I'm thrilled that after starting at the Y in Aquatics in 2009 my journey has lead me to where my passion for outdoor experiences and talents can serve the Warren community. I can help you plan your fall, winter or spring experience at Warren, assist with scholarships and answer any questions you may have about Warren or any of our YMCA of the North camps. The outdoors has always held a special place in my heart because I've experienced the impact that programs and time in nature can have on individuals and families. Some of my favorite outdoor experiences include family hikes with my three young children, Boundary Waters trips and spending time paddling in the cedar strip canoe my husband built. As a family we love going to Warren for work weekends and family camp! 
John Brittingham, Site Manager
Christine Brittingham, Kitchen Manager