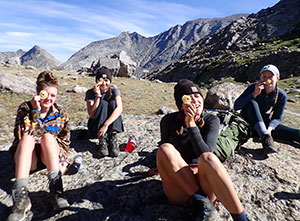 Join us for the Camp Widjiwagan 2021 Summer Camper Reunion and Gear Drive!
This event is going to be a little bit different this year. All activities will be outdoors at YMCA Camp St. Croix. Activities will include outdoor games, hiking and sledding if snow allows. Campers will be able to warm up with hot cocoa and snacks by a fire but we will not be offering a sit down meal as we have in past years.
Event Details
Date: December 18, 2021 
Time: 1pm-4pm
Cost: $10
Location: Camp St. Croix - 532 County Rd F, Hudson, WI 54016
Please enter Camp St. Croix through the main entrance, directly across from Rivercrest Middle School
Don't forget to bring a sled and items that you are looking to donate to our gear drive! 
Gear Drive Info
Each year we solicit new or gently used gear donations at our Summer Camper Reunion so that we can continue to offer necessary gear items to campers in need. Items that we are looking for include:
Rain gear
Wool Socks
Hiking Boots
Base-layers 
Mid-layers
Sleeping Bags
Sleeping Pads
Hats/Mittens