We're still waiting for more stories from this decade, share yours!
---
Jack Lund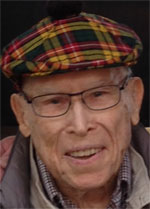 My name is Jack Lund. I am a lifelong resident of St. Paul, and as of this writing, I will be 102 years old on September 4, 2019. Over the past several years my niece, Sally Lund, has interviewed me, as she did her Grandmother and other family members, in an effort to record family histories. Recently, she interviewed me about my 1930 canoe trip (to what today is the BWCA), when I was a camper at Widji.
I would like to share this story—-at least as much as I remember—-with Camp Widjiwagan on the occasion of its 90th anniversary.
In the summer of 1930, Al Johnson was the Secretary of the Midway YMCA, and my father, Henry (Heinie) Lund was on the board of directors. I was just shy of my 13th birthday, and my father decided, along with Mr. Johnson, that I should go on a canoe trip at the newly founded YMCA Camp Widjiwagan in Ely, Minnesota. Dad signed me up, and along with three other boys from the neighborhood, we packed our gear, and in August of 1930, we experienced an 8 day adventure that I remember to this day.
There were eight of us boys on the canoe trip, as well as our guide, Mel Powre. I only remember the names of three of the boys, but they were all from the neighborhood and kids I had grown up with or had gone to school with. My friend Don Lampland lived on Iglehart and Finn; Gene Hoppe was in my class at Longfellow; Brooks Robinson, another neighbor, was the step-grandson of Charlie Ward of Brown and Bigelow. The other boys on the trip were from St. Paul and also had some connection to the Midway Y.
Early on a Saturday morning we all met at the Midway Y, our gear packed into duffle bags, and were driven by car to Camp Widjiwagan. The drivers were either parents or Y staff, and we went in cars owned by the drivers. We arrived at camp late in the afternoon and spent a couple of hours getting trained on how to pack our gear and paddle the canoes. Dinner was held at the mess hall (today known as Moose Cabin?), and as I remember, there were 1 or 2 other cabins at the camp. We slept in one of these cabins and left the next morning in three Old Town canoes. 
Our trip took us from Camp Widjiwagan to Little Long Lake, Bass Lake, and Low Lake, then up the Range River into Jackfish Bay and through Basswood (lower and upper falls). The trip continued through Crooked Lake, Curtain Falls and Lac LaCroix, then into Agnes, the Nina Moose River and Nina Moose Lake. We were picked up at the Echo Trail and driven back to Camp, where we once again had a meal in the mess hall, slept overnight and returned to the cities the following morning in the same cars that had taken us from the Midway Y to Widji.
I remember that on the trail we slept 2 boys to a tent, and though we must have eaten, I do not recall a single meal served while on the trail. I do remember being hungry all the time, and though we must have eaten, I have no recollection at all of meals, except those served at Camp. What is a vivid memory are the many beaver dams we had to lift the canoes over in order to make our way down the river. It seems that on several days we spent more time out of the canoes than in them. I also remember that on the other days we paddled endlessly and were exhausted when Mel, our guide, would finally announce that we could set up camp for the night. He was the keeper of the maps and always chose the campsites, so our job was just to paddle and portage. There were many portages, too, and some of them were brand new, just recently finished by the CCC (Civilian Conservation Corps, nicknamed Roosevelt's Tree Army). 
Unlike today, we did not carry life jackets with us, but none of us boys—-or our parents—seemed concerned about that. I was luckier than some of the other boys because I had spent years boating and canoeing on the St. Croix River, yet the amount of paddling and the physical work that went into this Widji trip was far more than I ever imagined it would be. I had thought this would be a "breeze" and that we would fish, which we didn't, and enjoy a leisurely trip up north. That is not how it was for this 12 year old, yet I had a wonderful experience and am grateful to this day that my Dad afforded me the experience. 
Three or four years later, my brother, Bill, would take a similar canoe trip, with a similar route, from Camp Widjiwagan. Both of us passed down to our children our love of the outdoors and canoeing, and several of our kids were Widji campers and /or staff between 1965 and 1983.
I am now 101 years old, and though many memories have faded, my Camp Widjiwagan experience has not (well not much).
Congratulations to Widji on its 90th anniversary and may the experience that Widji afforded me continue for young people for years to come.
Jack Lund
St. Paul, MN
My thanks to my niece, Sally, and to Chris Bewell, for "jogging" my memory with a million questions about my trip, as well as maps of the BWCA that allowed me to accurately retrace my 1930 trip.