UPPER THLEWIAZA REVELATIONS By Dave Anderson
In the summer of 1973 I was a Boy Voyageur. Our trip consisted of three distinct parts.
I.    Upper Thlewiaza River – a smaller, raucous river
II.    Nueltin Lake – 120 miles
III.    Lower Thlewiaza River – a larger, free-falling river
I came across a poem I wrote on our trip about the first stretch, and I added a few verses at the end of the poem later.

Upper Thlewiaza,
    Sometimes called Kasmere;
Many rapids had that river,
    Many not too dear

Some required portage
    That we had to walk;
But those in which we shot on through
    Demanded that we talk

Of course we first would inspect them,
    To see where the channel lay;
Then before we would try to attempt their passage
    It was always wise to pray

But once you are out in the current,
    And it's got you in its hold;
Confidence is most essential
    Lest you end up wet and cold

The first shock you receive in shooting
    Is viewing the mess from the top;
Somehow it always looks terribly different,
    And somehow you want to stop

The whitewater jumble untangles
    If you work it out as a team;
The rocks and the "V"'s are by rather quickly
    While your eyeball reflects a strange gleam

Now the years have flowed like the water
    Racing through the chute;
I long for the success and the thrill of it all,
    But nothing quite as cute

Each wonderful watery challenge
    Seen with those youthful eyes,
Run to the calm, brought new faith,
    And the makings of the wise

While the rapids taught me much
    Still that mix of fear and fun Will be my most trusted companion
    Till my life is done.
Bob Chiang
Camp Widjiwagan changed my life. My first trip was during the summer of 1970, and a friend, Peter Schumacher camp with me. Although Peter and I both returned from the 14 day canoe trip covered with mosquito bites, only I was infected by the outdoors bug. I believe instead of a life of wilderness trips, he went to buy a series of ever louder Ford Mustangs. 
The second summer, our trip retraced a route of the French Voyageurs leading from their fur trading grounds to the shore of Lake Superior via "The Grand Portage". The Grand Portage is 2,720 rods, or over 8 miles long. I probably helped carry the canoe a total of 20 rods. 
My third trip, was 21 days long and it rained on something like 18 of those days. I slept in a winter weight down sleeping bad made from a Frostline kit. I remember debating whether to buy the kit that would require a bunch of sewing for $60, or buy a less warm 'store boughten' bag for $55. Considering I still use this bag for cold conditions 46 years later, I guess it worked out okay.
When you think summer canoe trip, you hopefully picture a blue sky with cotton ball clouds, the sun sparkling on gentle waves...so a down filled winter bag sounds like a night in HE-double-hockey-sticks (pardon my French). Except we were far enough north to wake up to a skim of ice in the cook pot one morning!
At that time (before the invention of beavers evidently) we drank straight from the lakes and streams. That reminds me of a skill: hardly breaking our paddling rhythm, we used to flip our canoe paddle vertically with the blade pointing up, and tip it expertly so the water ran down the paddle shaft right into our mouth :) Quick delivery of giardia and crypto sporidia!!!
During my three summers at Widji, I probably spent close to 60 days paddling, portaging, and camping. I learned many important outdoor skills and lessons that provided a foundation for future adventures:
There is a limit of how many blueberries you can eat, if you exceed this personal limit, you'll throw up. After 21 days of exposing your face to sun and wind and bug bites and perhaps not washing your face with soap very often, your appearance disturbs people. 
If you're the duffer (a passenger sitting in the middle of the canoe), sit on your life jacket or you'll get a wet butt. No matter how much you get rained on from above and soaked by splashing or wading from below, you don't melt. A spare pair of dry fool socks is worth the weight. Experiencing outdoor adventures with friends and family is one of life's greatest gifts, don't - cha -no. .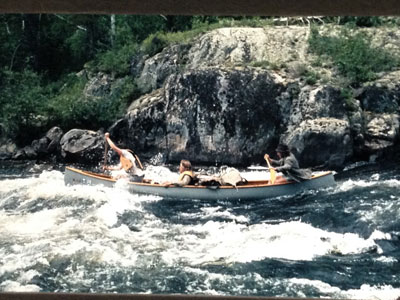 Paul Herbel
It was 1975. Our family had just moved to Rochester, MN, which seemed like a big farm town after living one hour away from NYC in western CT. My mom, unbeknownst to me, had signed me up for a boundary waters "voyager" canoe trip to take place in Ely, MN, through the local YMCA. I was 15 at the time. We arrived at Camp Widjiwagan, got tetanus shots, learned how to carry a canoe, a heavy pack and did some kind of extended swimming test in the lake I remember between sneaking cigarettes outside of our cabin before heading out in the Quetico region of Canada. 
There were 8 people in our group. Me and another guy named John and 6 girls/women. 2 female guides/counselors I guess they were 21 or so and we were all 15 to 18 years I figure. Off we went. Paddling all the way to Argo lake. I think those old canoes weighed as much as I did. At least that's what it felt like. Portaging was a bitch. Both hands on the gunnels, try not to drop the canoe with flies and mosquitos buzzing around your head while slogging up and down hill thru a mud soaked trail imagining how much further it would be until the path ended at the next lake. 
One girl in our group, her name was Mona, "turtled" when she put on her heavy pack and fell over backwards due to its weight. What a day. We were out for 2 weeks or so. It was fun. Before we knew it our trek was over and we were back in Minneapolis and making our way home to Rochester which was 90 miles south. 
Mona's older sister met our group to drive us back home but only had room for the 4 girls in her small car so John and I hitchhiked the last part of the trip home. I got dropped off 3 miles or so from my house near a greasy spoon called "Beanie's" where I proceeded to inhaled numerous burgers, fries, shakes, etc after weeks in the woods living off of dehydrated food stuff. I began walking home. 2 blocks from my house, "Kathie S" who was on the trip with me and carried the heavy pack with the cast iron griddle in it on each portage, came buzzing up in her car wanting to know if I made it home okay and I threw my wet sleeping bag at here and said "where were you 89.5 miles ago ?." We both laughed and she hauled me up the hill to my house. 
What a trip. What an adventure at that time of my life. I'll never forget those great days with John, Mona, barb, Kathie, Katie F. and guides Cindy from Albert Lea, MN and Sally from I don't know where but will never forget even after 41 years. A good time was had by all. 
Paul Herbel, Bozeman, MT ...as recalled May, 2016.