Graeham Handcock
John Bussey
My 2002 Widji Explorer trip was absolutely transformative in my life. Specifically the last day - the Portage. I remember being so nervous about the prospect of not being up to the challenge, and then doing it, and proving to myself that I could accomplish far more than I ever thought possible if I was part of a supportive team. I remember getting to the shore of Superior and freezing my butt off as I dipped in to wash off. It was so cold, SO COLD, but a swim has never felt so good. 
Riona Gipple
I have gone on 3 Widji canoe trips, and it has shaped who I am and what my beliefs are. I have a strong set of skills and morals I intend to share with the world and my future camp mates in the years to come. Thank you Widji for making me who I am today. 
* "We" are the first Widji Board member trip, including Anne Cowie, Tom Hiendlmayr, Dave Jerde, and Elizabeth Miller, and led by Widji staff Audrey Haynes and Chris Lauth.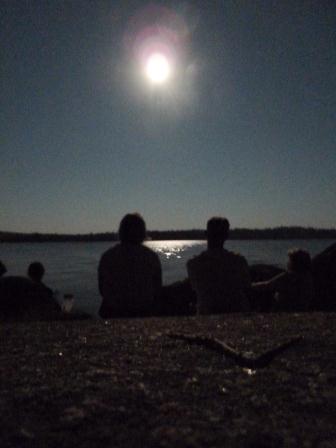 We* had completed our evening tasks, tucking everything into its proper place as per the Widji way at our campsite on Lake Agnes, and settled down by the shoreline to watch the full, blue moon of August 2012 rise in the southern sky. It had been a challenging but good day, paddling into headwinds and rain squalls up Lac La Croix towards Warrior Hill in search of pictographs near there. We had found them, then safely returned to our base camp feeling successful in our efforts. Winds had ceased and skies cleared, and so in the evening's moon-lit quiet, we in turn shared our day's roses, buds and thorns. After the last words spoken, off down the lake a loon began calling, wailing and yodeling unanswered, and continuing for several minutes. We held ourselves as in a sacred space; saying nothing; listening; discerning nature's words; our hearts and spirits lifting, floating, then soaring.
Emma Burgeson and Mitzi Peine
We often hear about how Widji trips change people's lives, about how lifelong friendships are made and respect for the environment is learned, but what we don't hear about as much is what happens after camp. What happens when that trail glow from our trips doesn't fade? It inspires us to seek adventure and push the limits on where we can go and what we can do. We try to have a positive impact in the world one small step at a time.

Mitzi and I met on our voyageur trip in 2010 and remained close ever since. We guided glacier tours in Alaska for a summer and schemed about what our next adventure would be. This summer, we will be the first all female to compete in the Yukon 1000, the world's longest canoe and kayak race.

We want to share our story with anyone that's willing to listen. We want everyone to know what happens after camp ends can be exhilarating and life changing if you let it be. Many have asked why we are doing this, and the first answer we give is that we want something challenging and memorable to mark the end of our college careers. The honest answer is that we want to show kids that you can race a thousand miles if you want to, all you have do is believe in yourself. Widji gave us the confidence we needed to go out and pursue our passions, and for that, we cannot be any more grateful.

Follow us in our attempts to make a difference.

Peace on the waterways.