Haven't logged into Camp Doc yet? Log in here.
After this last year, we believe connecting to the outdoors and with friends will be more important than ever.
Camp this summer will include modifications and safety protocols as we continue to collaborate closely with Center for Disease Control (CDC), American Camp Association (ACA), departments of health and camp experts. If you missed our virtual open house, you can find a recording here.
*The COVID safety protocols listed below are subject to change
(click to expand)
Pre Arrival
We ask that all campers avoid all unnecessary travel and gatherings the 10 days leading up to the start of their session. All campers will be required to take a COVID test within 3 days of the start of their session. Results must be uploaded to CampDoc (more info coming soon!) prior to the start of the session.
Between testing and arriving at camp, we strongly recommend a quarantine period defined as: 

Avoiding all non-essential travel and gatherings, included but not limited to restaurants, social gatherings, etc. 
Mask wearing in groups and indoor spaces outside of home environment.  
6 feet physical distancing in groups outside of home environment. 
Conscious awareness of risk factors associated with COVID transmission. 
Immunity boosting practices: rest, vitamins, healthy diet, etc... 

Our summer staff will follow the same pre arrival practice listed above. Additionally, in both Minnesota and Wisconsin, our staff are eligible to receive the vaccine as a YMCA employee.
If traveling by plane is required for you to arrive at camp, we ask that you follow the above protocols as well as the below travel gear recommendations. 
Travel gear recommended to be worn from airport to airport: 
N95/KN95 
Face Shield and/or Lab Goggles 
In accordance with our pre arrival requirements for a COVID test, YMCA of the North prefers molecular PCR tests. Here are some links to COVID tests in Minnesota: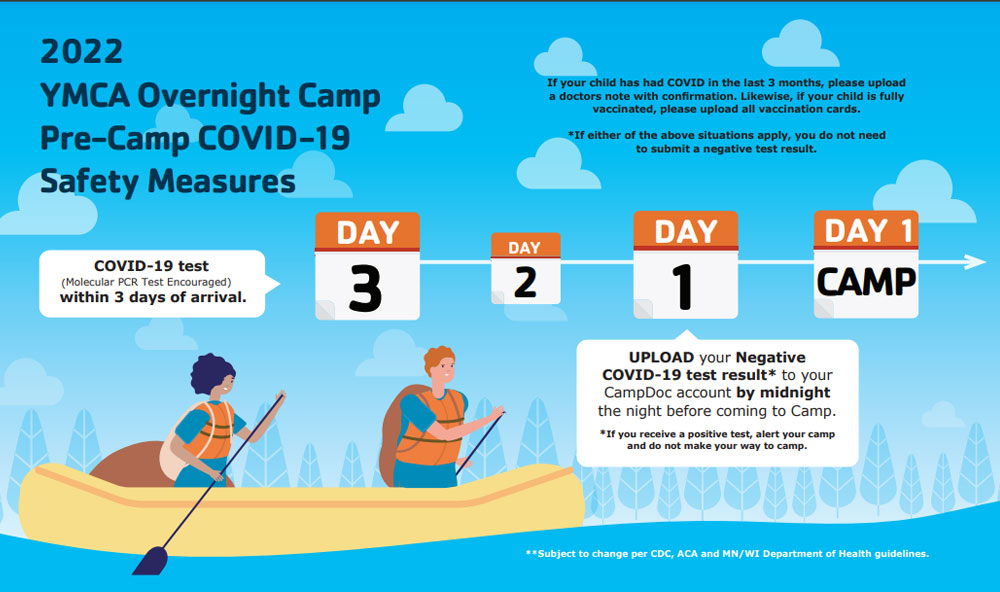 To and From Camp
Drop off and Pick up: We will have parents/guardians check in and check out all campers while remaining in their car. Specific details will be communicated prior to camp.
Bus:

Campers/Staff will wear masks on the bus to/from camp.
Campers/Staff will spread-out based on best practices defined by Bus Company and the American Camp Association.

We will have more specific information on our webpages, closer to summer.
Activities and Program
Campers and staff will wear masks when indoors, or outdoors with a group outside of their own cabin and can't maintain a canoe-length distance!
Program planning will include reducing shared equipment, increasing sanitization of surface areas and program supplies, utilizing outdoor spaces, and maintaining distance.
Multi-cabin activities/programs will be limited take place outside and utilize physical distance.
Evening programs will occur in smaller groups, based on state guidance for group gathering sizes, while maintaining the exciting, expanded camp feel.
Dining
Meals will be held outside as much as possible, limiting capacity in the dining hall.
Campers will still eat with their cabin groups, an important part of our camp tradition.
Meals will be served family-style to cabin groups.
Adjustments will be made to buffet-style options, eliminating shared utensils (for example, each cabin will be provided a salad instead of utilizing the shared salad bar).
Facilities
Campers and staff will wear masks in all shared spaces, except sleeping cabins. Capacity of camper cabins will align with physical distancing standards.
Cabins and high use shared spaces will keep windows open and run fans for increased ventilation.
Extended use of HVAC systems, with increases in replacement of high-quality filters.
Scheduled cleaning and disinfection, as well as increased hand washing and sanitizing measures put in place.
All programs will be moved outside when possible.
Health and Safety
Please log into Camp Doc and update your profile
Camp Health Professionals will conduct daily health screenings of campers and staff. 
If any symptoms arise, they will communicate with parents/guardians, and follow strict protocol on responding to symptoms or suspected cases.
We will significantly increase our cleaning, handwashing, and sanitization procedures this summer, cleaning and sanitizing bathrooms, shared spaces, and commonly touched spaces multiple times per day.
Meals, activities, and programming will occur outdoors whenever possible.
Looking for testing sites? Find some here.
Tripping
All overnight camps will follow the guidelines put together by the Y of the North Wilderness Camping team.