In schools nationwide, there's a huge emphasis on S.T.E.M.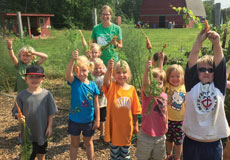 Science, Technology, Engineering and Math are critically important, and students are discovering how to learn and how to think.
But are we teaching them how to live?
My daughter said that P.E. is the thing that gives when there are assemblies or standardized tests during the school day.
"Gym is gym," she said.
She wasn't looking at the value of the activity in the same way she does math, science and reading. I think her attitude reflects how many of her peers feel about gym class.
The state's obesity rate was 27.6 percent in 2014, compared to 15.3 percent in 1995, according to the Minnesota Department of Health.
Maybe it should be S.T.E.M.E., because young people need to understand the importance of exercise and more holistically, a healthy lifestyle. We've got to get into a pattern, culturally, where exercise is as important as S.T.E.M.
The power of technology that children have at their disposal makes exercise and outdoor activity pale in comparison. It's not as "cool" and as interesting as the media that they can hold in their hands.
My wife and I have not been great about a formal rule at home, other than no screens in the bedroom and no screens activated during meal time. But the other place I wish we would have established boundaries earlier was when we're in the car together. That can be a great time and space to discuss healthy behavior, and generally what's going on in their life.
I think it's also important to talk about equity in these discussions. There is not equitable access to food, such as fruits and vegetables, and healthy exercise. Just like in academics, intentional parents go a long way to ensure kids are getting activity through team sports, or other forms of training or conditioning. But all of that can cost a lot of money.
I know CATCH (Coordinated Approach to Child Health) has the potential to get at these lifestyle behaviors early, making it cool and fun and tangible.
CATCH has been around for over 25 years and now serves over 10,000 children in all 50 states. It's about modeling certain behaviors that are not just critical to emerge as a healthy young person but for them to thrive throughout their life.
Just like social and emotional skill development that the Y is focused on, we see these practical life skills as a potential tipping point for them going down a healthy path or a relatively unhealthy path.
What we're seeing with CATCH is sometimes the kids are holding their parents accountable with GO, SLOW and WHOA. GO foods include fruits and vegetables. WHOA foods include cookies, candies, soft drinks and fried foods. And SLOW foods are in between, such as sweetened (or flavored) 1 percent milk and refined grains.
Kids embrace the simple language of GO, SLOW and WHOA, and they can raise the bar of expectation at home of what they're eating.
Quinn, a first-grader, has done exactly that.
"He will correct us if we don't have the right snack," his father said.
Added his mother, "He lets us know when there are too many WHOA foods in the house."
And that knowledge doesn't just serve him today.
Consider the wise words of Jennifer Menk, the Y's senior director of fitness.
"Developing healthy lifestyles around fitness and movement," she said, "eating right and getting the right amount of sleep when they're younger translates throughout their whole lives."
That's something we can all get behind.