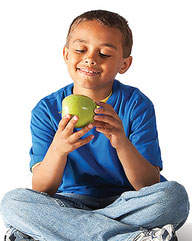 A November 2017 study by the Centers for Disease Control and Prevention projects 57 percent of US kids will be obese by age 35.
According to the National Health and Nutrition Examination Survey, six in 10 children did not eat enough fruit and nine in 10 did not eat enough vegetables between 2007-2010.
Ninety-one percent of youth improved or maintained healthy nutrition eating practices and 77 percent improved or maintained behaviors supporting healthy nutrition through engagement in Healthy Kids Initiative strategies.
The YMCA of the North, a leading nonprofit dedicated to strengthening communities through youth development, healthy living and social responsibility, empowers young people and families to make healthy choices by offering programs that make fitness and nutrition fun through the Y's Healthy Kids Initiative. 
When kids are out of school, they can face hurdles that prevent them from reaching their full potential. Research shows that without access to out-of-school learning activities, kids fall behind academically. Kids also gain weight twice as fast during summer than the school year. As spring turns to summer, the Y's Healthy Kids Initiative is a powerful reminder not to let children idle away their summer days. 
"When a child is healthy, happy and supported they can make great things happen," said Glen Gunderson, president and CEO of the YMCA of the North. "We believe in the potential of all children, and we strive to help kids find that potential within themselves. A child's development is never on vacation and the Healthy Kids Initiative is a great opportunity to educate families and motivate kids to stay active in spirit, mind and body throughout the summer as well as the school year."
Gunderson added the Y's Healthy Kids Initiative, in partnership with the UnitedHealth Foundation, Target Corporation and Cargill Foundation, helps ensure all youth engage in healthy eating, nutrition and physical activity while in Y care. Youth participants are exposed to wellness concepts through a number of programs and initiatives:
CATCH (Coordinated Approach to Child Health) - an evidence-based curriculum designed for youth with best practices in behavior management, youth engagement and inclusion around physical activity and nutrition education.
Youth and Teen Group Exercise Classes - fun, drop in classes such as Little Lotus Yoga, Kids Fitness and Virtual Fitness to get youth moving.
Healthy Living Kitchens - nutritionists and health/wellness professionals share basic cooking techniques while showing young people how to prepare simple, great tasting and nutritious snacks and meals for themselves and their families. 
Farm to YMCA - initiative to bring intentional gardening concepts to preschool children at the Y through curriculum, procurement of local foods in catering menus, engagement with local farmers and local food exploration.
Discover how the Club Y program provides opportunities for parents and youth ages 6-12 to stay healthy through fitness, art, cooking and educational classes. – Club Y Helps Build Healthy Families
Learn about the Farm to YMCA, sponsored by Blue Cross Blue Shield Center for Prevention and Renewing the Countryside, to introduce preschool children to the concept of gardening, food preparation, and farm to table. – Planting Healthy Habits for the Whole Family
See how a local family has fun being active together. - Finding Fitness for the Whole Family
Because the Y is a leading nonprofit committed to helping all young people and their families thrive, financial assistance is available to those in need. To learn more about the Y's programs, please visit ymcamn.org.