Executive Director - Meghan Cosgrove
Meghan joined the Menogyn community as Executive Director in 2017, Prior to Meghan spent three years serving as the Senior Director of Individual and Family Giving for the YMCA of the North and nine years as Director of YMCA Camp Warren. Through those roles she had the opportunity to learn more about the incredible wilderness adventures offered at Menogyn and couldn't pass up the opportunity to join in the fun! A firm believer in the power of a small group wilderness experience, Meghan works tirelessly to ensure that camp remains accessible to all! When not at camp, she enjoys spending time canoeing, backpacking, traveling and skiing (nordic and alpine). She might be best known as the mom to two pups, Woody and Winnie, who roam camp in the summer. Meghan holds a BA from Bowdoin College and an MA in Education from the University of St. Thomas. 
Program Director - Emily Ten Eyck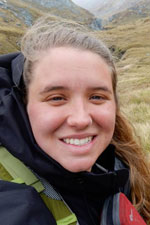 As a kid, I attended many Y summer camps but my heart fell for wilderness tripping after an incredible two-week trip to the Quetico when I was 14 years old. Since then, I have been hooked on these powerful experiences that forge life-long friendships, personal growth, and connection to our natural world. I've led backpacking and canoeing trips in the far north of Canada and Alaska, I've been an environmental educator in the Redwoods of California, and most recently I've managed programs at the Voyageur Outward Bound School in the Twin Cities. I am deeply grateful for all the experiences that have led me to my current role at Menogyn and I am excited to carry on the tradition of making Menogyn Magic a part of your camper's summer. 
If you have any questions about Menogyn's programs, scholarship opportunities, or employment at camp please contact me. Email Emily | 763-230-9310