Using guidance from the Center for Disease Control (CDC), American Camp Association (ACA), departments of health and camp experts, we will be making modifications to our camp programming this summer and implementing practices aimed at mitigating the spread of COVID-19. Please read below for more information.
*The COVID-19 safety protocols listed below were published on 4/22/2021 and are subject to change.
(click to expand)
Pre Arrival
10 days prior to session start date
Campers should start quarantining to the best of their ability in preparation for arrival. We define quarantine as:
Avoiding all non-essential travel and gatherings, included but not limited to restaurants, social gatherings, etc.
Mask wearing in groups and indoor spaces outside of the home environment. 
6 feet physical distancing in groups outside of the home environment.
Conscious awareness of risk factors associated with COVID-19 transmission.
3 days prior to session start date
Campers must take a COVID-19 test (PCR preferred) and receive a negative result. Campers will be required to upload test results prior to their arrival at camp.
Extra caution should be taken during the three days between testing and arrival at camp.
Day of Arrival
Campers will be asked to complete a series of screening questions before they board the bus or enter camp property.
A camper who answers "yes" to one or more of the screening questions will, unfortunately, not be allowed to come to camp on that day. We will work with these families to see if the camper can move into another session later in the summer.
Our summer staff will follow the same pre-arrival practices listed above.
Additional COVID-19 Related Packing List Items
In addition to the pre-arrival protocols listed above, we are asking that campers prepare for camp by adding these COVID-19 related items to their packing list:
Eight 2-layer fabric masks
Personal Hand Sanitizer
Covid Vaccinations
We encourage all staff and eligible campers to pursue COVID-19 vaccinations prior to arrival. We will not be mandating vaccination.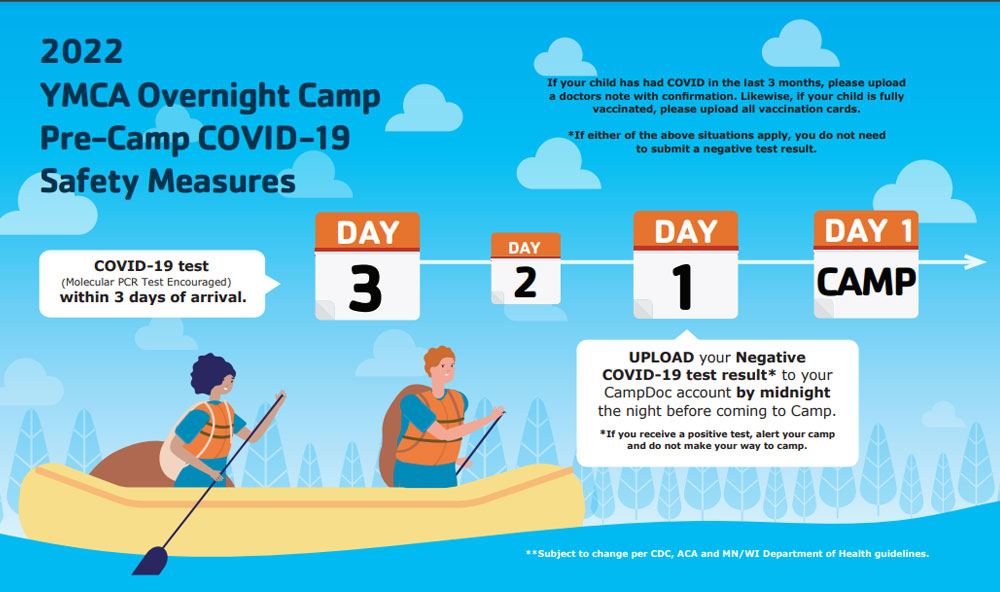 To and From Camp
Onsite Drop off and Pick up
We encourage families to drive their campers to camp when possible and practical. Bus transportation is also readily available. 
We will have directions for parents and guardians who opt to drop their campers off when they arrive on site. Please note that we are currently closed to visitors when campers are present. 
Bus Transportation
Bus Drop Off:
Parents/guardians should plan to remain in their car during check in and check out. Specific details will be communicated prior to camp.
Bus Ride:
Campers/Staff will wear masks on the bus.
Eating will not be permitted on the bus.
Campers will have assigned seats and an organized strategy for loading and unloading luggage.
Lunch will be eaten outdoors.
The bus company will only be circulating fresh air on the bus.
Plane Transportation
Campers who must travel by plane to get to camp will still be expected to follow our pre-arrival requirements including quarantining, receiving a negative COVID-19 test 3 days prior to arrival and submitting the negative test result.  
Campers should plan to wear additional protective equipment during airfare including:

A N95 or KN95 mask and 
Face Shield and/or Lab Goggles
On Site Camp Programming
Campers and staff will wear masks according to the "Rule of Three" – the "three" being masks, distance, and the outdoors – the "rule" being that everyone will need to have two of these three interventions in place while on site at camp except while sleeping.   
Camper trail groups will be considered a pod. Campers will attend evening programs in combined groups of pods. These combined groups of pods will attend evening activities together through the camp session.  The size of these groups will be based on state guidance for group gathering sizes.
Programming will be planned in a manner that reduces shared equipment, increases sanitization of surface areas and program supplies, utilizes outdoor spaces, and allows pods to maintain appropriate physical distance.
Per Minnesota Department of Health guidelines, the sauna will be closed this summer.
Dining
Meals will be held outside as much as possible in order to limit the number of people in the dining hall.
Campers will eat with their trail groups.
Meals will be served by staff members to avoid multiple hands touching serving utensils.
Trail meals will be packed out by trained staff members.
Facilities
Campers and staff will wear masks in all shared spaces, except while sleeping. 
Buildings will have windows open when weather permits and fans will circulate the air in spaces that have electricity.
When possible, trail groups will stay in cabins alone. Larger cabins will accommodate two groups when necessary. In that case, groups will be asked to stay on their half of the cabin. 
Scheduled cleaning and disinfection, as well as increased hand washing and sanitizing measures will be in place.
All programs will be moved outside whenever possible.
Screening, Testing and Positive Cases
We will conduct daily health screenings of campers and staff. 
If any symptoms arise, Camp will communicate with parents/guardians, and follow protocol on responding to symptoms or suspected cases. 
If a camper tests positive for COVID-19, that camper and their trail group will be evacuated from their trip and sent home.
A family member should plan to assume care of an evacuated camper as soon as possible after they receive notification and their camper leaves the field. Parents/guardians of campers out west and in Alaska will be expected to pick up their camper where the group was evacuated within three days. Parents/guardians of campers in Minnesota or Michigan will be expected to pick their camper within two days under most circumstances.
Families will be responsible for their evacuated camper's travel home from their trip destination. We will work with families to orchestrate this transition as smoothly and quickly as possible. 

Families with campers traveling in Alaska will receive follow up communication about this policy. 

Rapid tests will be available for campers and staff while in camp and on their trip. Trail Counselors and other camp staff will be trained to administer these tests. 
If necessary, we will have space reserved on site to isolate and care for campers with confirmed COVID-19 cases.
We will regularly test our staff teams.
Wilderness Travel
Travel to Canada
The Canadian border remains closed. We will communicate contingency plans for trips that traditionally travel in Canada via email to families.
In case the border opens this summer, campers registered for these trips should make sure that they have a valid passport unless they hear otherwise. 
Transit and Tripping
Whenever possible, trail groups will travel in their own van. When sharing a van with non-group members, campers and staff will wear masks.  
Campers and staff will be expected to make as few stops as possible and only enter facilities to use the restroom.
Campers and staff will wear masks when sharing a van with non-group members. 
Campers will wear masks in congested areas on-trail when it is difficult to maintain distance from the public. 
Positive Covid Case on Trail
We have relationships in each service area we visit to ensure that we have evacuation and treatment options for campers who get injured or sick on-trail, including shuttle services, clinics, and hospitals.
Each trip will carry an isolation tent for use if a camper comes down with COVID-19 symptoms
Please review the "Screening, Testing, and Positive Cases" section before your camper arrives at camp. It is important that families understand that if their camper exhibits symptoms and tests positive for COVID-19 on-trail, they will be evacuated along with their trail group and sent home in the care of a family member. 
Parent/Guardian Information
Closing Ceremonies
We will be limiting Banquets and Closing Ceremonies to just enrolled campers and staff. We are making limited exceptions to this policy for Arctic trips. Arctic families will receive separate communication.
Scholarships
As always, we never want to turn anyone away because of their financial situation. We are aware that financial circumstances are uniquely challenging this year. Please consider reaching out for financial assistance, we want all campers to be able to experience camp this summer: https://www.ymcamn.org/scholarships.
Cancellation Policy
If our program offering this summer changes as a result of current circumstances, or your ability to attend camp changes, please know we will work with each of you. If we need to cancel a program, a refund will be generated (including deposit), and no action is necessary. If you would like to cancel your camp session, we will provide a few options: 
Full refund: refund in full including deposit, according to the COVID-19 policy
Donate: instead of a refund, make a donation to support YMCA Camps
Refund and donate: do both, donate a percentage of your fees and refund the rest
Please contact our Customer Service Center to assist with any cancellation questions.