Leadership Development Program
Teens entering grades 9-12 will learn about leadership through training and helping camp counselors facilitate programs. Applications are due Friday, January 8, 2021. Cost is $600 for a two-week session (transportation provided for an additional $40). Applicants will be informed by Friday, January 29, 2021.
Leadership Development program description
2021 Session Dates
Session 1: June 13-27
Session 2: June 27 – July 11
Session 3: July 11-25
Session 4: July 25 – August 8 *All-gender session* Please contact us at campnorthernlights.info@ymcanorth.org for more information
Session 5: August 8 -22
There are a number of measures we are taking to ensure that each participate can safely join their session of the Leadership Development Program. Below is the timeline in which we ask each LDP participant to follow all COVID-19 safety measures as they prepare to arrive at camp. Please note that LDP participants who do not upload or bring proof of a COVID-19 negative test result to the bus stop or camp will not be able to join their session.
The most essential steps to follow are:
Avoid all nonessential activities
Take a COVID-19 test within 3 days our your session departure start date
Quarantine from the time you take your test to your session departure date
Upload a negative test result into you CampDoc login portal
*A full refund will be issued to participants who cannot join due to a COVID-19 positive test result.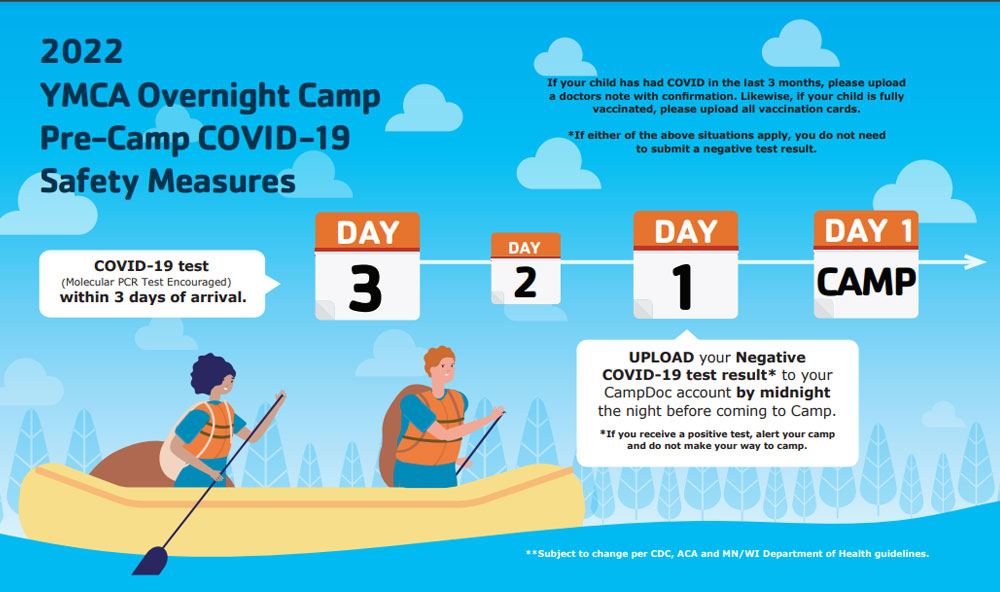 Resource Families
Seasoned Northern Lights campers can apply to be a Resource Family. Resource Families assist campers and staff throughout the session with a variety of activities, including the Little & Big Dipper Swim, and Adult Age-Groups. Applications are due Friday, November 13.The cost to be a Resource Family is $100 and is a week long session (Camp Northern Lights covers the cost of lodging, but each family is responsible for providing their own food). Applicants will be informed by Friday, November 20. Resource Families stay in Draco, a full facility cabin located in Buena Vista Village.
All sessions full for summer 2021. Applications for 2022 will be open this coming fall.
2021 Session Dates
June 13 – 19
June 20 – 27
June 27 – July 3
July 4 – 10
July 11 – 17
July 18 – 25
July 25 – 31
August 1 – 7
August 8 – 14
August 15 – 22
August 22 – 28
August 29 – September 1
S.T.E.P.S. Week (Supporting the Transformation of Equity and Power in outdoor Spaces)
At Northern Lights, we appreciate the value of diverse populations and welcome all. As we launch our third summer, we are intentionally working to change the white power dynamic traditionally present at family camp.