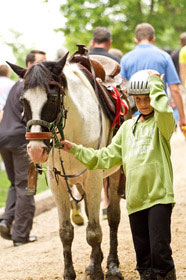 "I like playing indoors, because that's where all the plug-ins are."

Richard Louv's book, "Last Child in the Woods: Saving Our Children From Nature-Deficit Disorder," makes the case that "never before in history have children been so plugged in—and so out of touch with the natural world," a condition destructive to their development on every level.

Louv links what he calls "nature deficit disorder" to the disturbing trends of childhood obesity, ADD, and depression, and calls on parents to help their kids re-connect with nature for all kinds of positive reasons.

Sending kids "out" to play is what YMCA camps are all about. We're also sending them out to "learn" and to "explore" and to "grow."

We want that to be an accessible opportunity for ALL kids. To learn how you can help make that happen, visit ymcacamps.org.