When many people think of healthy grocery shopping, they picture spending a fortune at a high-end market.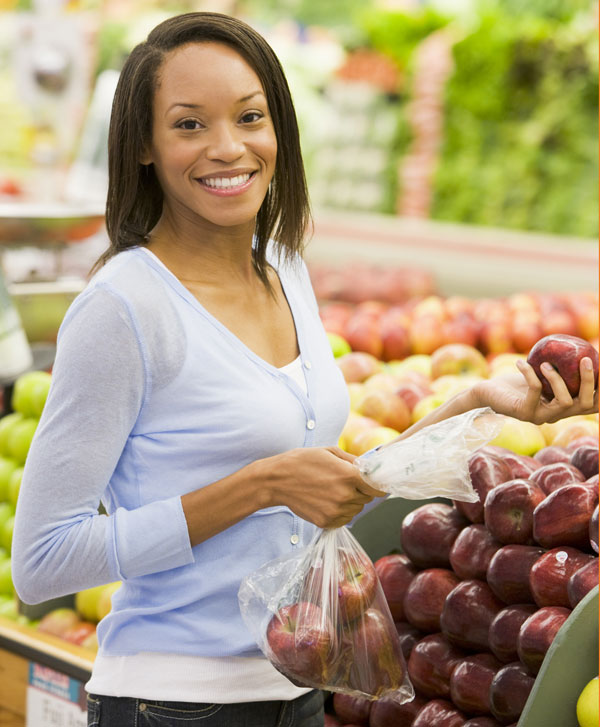 But you don't have to spend a lot of money to eat healthy. Investing a modest amount of time in shopping planning can make a difference in your health habits – and your savings.
"Shopping for healthy eating is a 'back to basics' strategy. The bulk of the budget should be spent on inexpensive building blocks rather than pricey high-sodium brand-name packaged products," says Valerie Lawson, MS, RD, LDN, director of the Y's Healthy Family Home.
Tips for success
Set a weekly food budget and track your spending. Many shoppers have no idea how much they really spend or what percentage of their expenses go toward non-essential items. Keep grocery receipts and review how you spent your money after each trip.
Don't shop hungry. Running into the grocery store after work and picking up the kids is a recipe for disaster. It's easy to give in to packaged foods, treats for cranky kids, and overspending.
Recruit the whole family to help develop a weekly menu. Seek healthy alternatives to family favorites – reduce salt intake, switch to whole grain pasta and add pureed veggies. Don't forget to budget for fun – like a dinner out or a trip for ice cream. Knowing a family "treat" is scheduled for the weekend can limit impulses during the week.
Prepare a shopping list by category and in order of sections of your favorite store. Start in the produce aisle and move through the perimeter of the store. Only head to the inner aisles for specific items like canned fruit and vegetables or multigrain pasta. The more wandering, the more impulse buys – especially if you have kids in tow.
Allow time to compare prices of various labels and package sizes. Store brands frequently offer significant savings. Buying a larger size usually saves cents per ounce, but the opposite can also be true. Check specials – two 8-oz. packages on sale can be cheaper than one 16-oz. package. The few minutes you spend checking math in the aisles can add up to significant savings at checkout.
Make more now, save the rest for later. The more food you make at one time, the healthier you eat and the more you save. That means prepping meals ahead of time for later in the week instead of cooking convenience foods that are expensive and usually higher in fat and sodium. You can also clean, cut and freeze fresh veggies and fruits for later use.
Y collaborations support smart food choices
YMCA of the USA and Eli Lilly and Company have partnered to create Healthy Family Home to leverage two of the most powerful forces in health today – the family home and the proven impact of small, sustained changes. Healthy Family Home provides free resources, tools and support for families who are ready to take a positive step in living a healthier, happier life. And right here in Minnesota, local YMCAs and the University of Minnesota Extension created Cooking Matters® at the Store, which helps families make smart food choices on a limited budget through guided grocery store tours.