How the Y Helps Homeless Youth Overcome Barriers and Thrive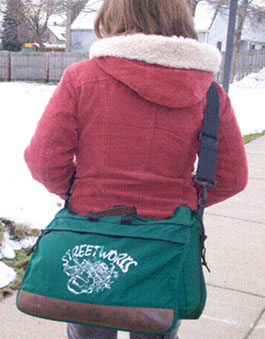 Schools, police departments, government agencies and elected officials are working with service providers like the Y and others to directly impact youth homelessness across the metro.
Over the last 20 years, the Y's Youth Intervention Services have grown from a single housing program to a robust continuum of services working to overcome immediate barriers while building upon strengths innate to each youth. Learn more
Outreach
These frontline specialists work in collaborative teams to seek out unsheltered youth wherever they are—parks, schools, community centers, abandoned buildings or on the streets—and are often recognized by this population for their green canvas bags containing basic supplies (e.g., hygiene kits, ponchos, bus tokens) and valuable resource information including the Youth Resource Line.
Both the Resource Line and outreach services operate in collaboration with the Streetworks Collaborative, a comprehensive network of homelessness service providers across the Twin Cities. Partner programs within the collaborative often complement those offered by the Y, providing specialized or culturally focused support to youth, and members of the collaborative routinely meet to address new or growing concerns and gaps in service for the homeless youth population.
Over 432 youth called the Resource Line in 2013 to connect with local food shelves, clinics, workshops and Y programs. Hundreds more connected directly with outreach workers to fulfill immediate needs by obtaining bus tokens, energizing snacks, soap or winter-appropriate clothing.
Transitional Living Program
This program supports eligible young people ages 16 – 24 by first securing transitional or temporary housing through step-down rent subsidies before working on personal goals (e.g., employment, education) and independent living skills. These life skills workshops are offered by many service providers across the metro (including the Y) and often focus on topics such as parenting, car seat safety, tenant rights, budgeting/financial independence and nutrition/healthy living. When possible, participants are housed within their own communities in order to increase comfort and confidence.
Host Home
This innovative service coordinates host households willing to "adopt" youth as part of the family, while case management and life skills trainings are offered by Youth Support Specialists. Some networks target dramatically underserved subpopulations like immigrant/refugee and LGBTQ youth, providing safe and supportive space to grow. Most of these programs operate within Hennepin County and in collaboration with Avenues for Homeless Youth, but in recognition of the success of this model, the Y is exploring expansion opportunities throughout the Twin Cities' metro area.
In 2013 alone, 34 youth were housed by the Y's Host Home and transitional living programs, also receiving access to health care, financial independence classes, confidence-inspiring group activities and personalized support toward educational goals.
Even the Kids are Getting Involved!
To honor Martin Luther King, Jr.—who was also a Y kid—the kids at the Y's Youth and Teen Enrichment Center in North Minneapolis created a Family Night Out event aimed at raising awareness around homelessness. With Youth Coordinator Nastaaja Johnson's facilitation, the kids developed themed activities and discussion circles and invited families, neighbors, even non-Y members to participate. Staff and volunteers contributed from their own pockets to help make the experience memorable, with hot cocoa served by the North Star Roller Girls and homemade chili prepared by the staff.
The event was to culminate with an overnight "lock-out" encampment where families could experience sleeping outdoors, but Johnson pointed to the dangerous wind chill as motivation to relocate inside the branch. Once indoors, Johnson facilitated discussion circles around "what does homelessness mean to you?" and "have you ever been homeless?" describing the conversations as "raw," with many families, young people and staff members sharing personal experiences.