Strengthen, tone and define your entire body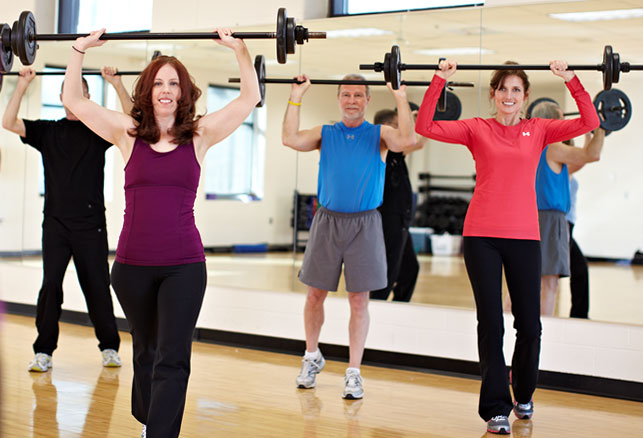 BodyPump is a Les Mills-registered strength class that combines energetic music, with barbells and squats, presses, lifts, and curls.
Before you attend your BodyPump class, here are a few helpful tips from Southdale Y group fitness instructor, Jenni Greenway.
What do I need to do to be prepared for my first BodyPump class?
You don't need to do anything before class, other than gear up to work your major muscle groups! Your instructor can help you select weights and set up equipment for your first class. Since BodyPump is for all fitness levels, the instructor will offer modifications so that the workout matches your fitness level.
I tried a BodyPump class once, but couldn't do all of the moves, now what?
Keep coming! The moves in class can be new to lots of people, but all of them are easily learned after a few classes. Give yourself three to four classes to get the hang of the moves and the pace. If after a few classes something just isn't clicking, stay after or come a little early to get some one-on-one guidance from your instructor.
What sort of workout should I expect?
Every class will have the same format of 10 "tracks:"
Warm up
Squats
Chest
Back
Triceps
Biceps
Lunges
Shoulders
Core
Cool down
Each track will focus on your form, weight selection and use change of pace to keep your body guessing. Your heart rate will fly and the strength training will launch the after-burn effect, helping you keep burning calories after class is over. New music is launched every three months to help keep our bodies from plateauing.
Do I need any special equipment?
The Y provides all necessary equipment needed (bench, mat, barbell, weights). You might want to bring a water bottle and a towel.
More tips for a successful BodyPump class
Let your instructor know you're new to class. Everyone is new to BodyPump sometime and your instructor wants to help you succeed.
Don't overdo it with your weight selection. Once class gets going, it's OK to change your weight selection to keep up with the high number of reps.
Keep coming! The more you come, the more confidence you build the more fit you'll feel.