Nourishing noshes for National Picnic Month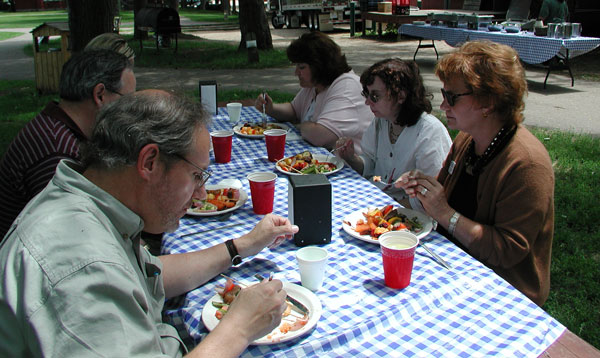 Now's the perfect time to bring a blanket and a basket of yummy foods to the outdoors for a picnic—it's summer and it's National Picnic Month. Instead of relying on popular picnic staples like mayonnaise-based salads, chips, burgers and baked goods, try these tips for giving your outdoor eats a healthy makeover.
Ditch the chip, but keep the crisp
Crunch on washed and cut raw veggies, which are portable, pair well with healthy dips like hummus and low-fat yogurt blended with herbs and pack a powerful nutritious punch.
Trade traditional burgers for …
On the grill, swap beef for veggie-laden Garden Sliders, Portobello Mushrooms, or Turkey Burgers. If you're not planning to fire up the grill, consider sandwiches heavy on veggies, light on bread and inclusive of lean proteins, like Caprese Wraps with Chicken or Spiced Avocado Pita Sandwich.
The mayo must go
Why make the same old traditional recipes for potato salad, coleslaw and pasta salad when you can dazzle your picnic partygoers with something different, delicious and darn-right nutritious?
Pounce on peak season for post-meal produce
Summer is a great time to enjoy colorful, fresh fruits. Satisfy your sweet tooth with a bag full of berries, a pretty fruit plate, or Grilled Peaches with Almonds and Honey.
Options abound for better-for-you picnic choices—all you have to do is get a little creative and enjoy a healthy meal alfresco!