The basics of run-friendly footwear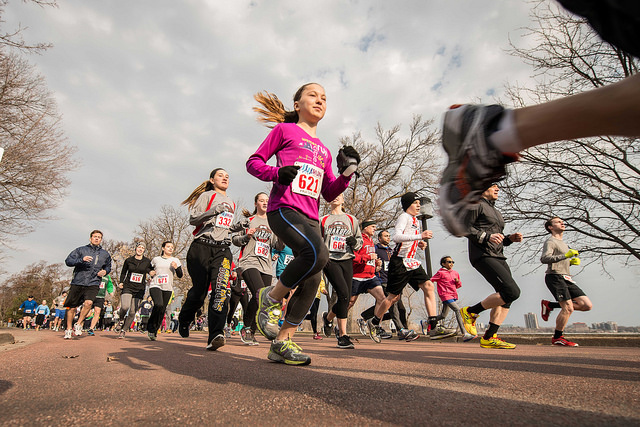 In addition to offering comfort and support, a good running shoe can help you to prevent or avoid injuries like shin splints, blisters, tendonitis, and plantar fasciitis.
Pulling out the old pair of cross-training shoes from your closet isn't the greatest way to start a new running program—it's best to get a dedicated pair of running shoes that work well with your individual body. Whether you are a novice or experience runner, here are a few guidelines to finding a running shoe that fits your needs.
How to find the shoes that are right for you
Your body is the biggest factor in helping you find the running shoe that you need. Although there are several considerations when shopping for running shoes, you might start with these two important factors:
How your feet strike the ground while running
As you run, your feet will naturally turn to help distribute the force of hitting the ground—this is called pronation. How the foot turns varies from person to person—and ranges from those with normal or neutral pronation, to those who over or under pronate.

To determine your running mechanics, check the soles of a worn pair of your sneakers, if the wear pattern is generally:
At the balls of your feet and the outside edge of the heel—you are a normal or neutral pronator and might want to look for stability shoes
On the inside edge of your shoes, including your big toe and heel—you are an over pronator and might want to look for motion-control shoes
On the outside edge of your shoes, including your little toe and heel—you are an under pronator and might want to look for cushioning shoes
The shape of your foot
The width of your foot, the height of your arch and issues like bunions all play a role in helping to determine a running shoe that will fit properly and feel good throughout your runs. If you don't know what type of arch you have, Runner's World suggests a quick test you can do at home.
Types of running shoes
There are two primary ways to look at types of running shoes:
Where do you plan to run?
Shoes for road running are generally designed to encourage speed and responsiveness—so they are often made of lightweight material, they might offer more cushioning for repeated strikes on hard surfaces and feature thin treads. Trail running shoes are created to help support feet on more rugged terrain—with deeper treads, durable soles and more heft.
How can your shoe help support your body while running?
Based on how you pronate, do you need cushioning? Stability? Motion control?
Cushioning shoes are best for under-pronators and those with high arches, featuring extra shock absorption.
Motion-control shoes are designed to prevent excessive pronation with extra support on the side, and are good for over pronators and heavier runners.
Stability shoes combine the best of cushioning and motion control, offering some side support and good cushioning for those with more neutral pronation.
Where to buy
Because we have such a vibrant running community in the Twin Cities, there are plenty of places to shop for treats for your feet, including:
Most specialty running stores are staffed by experts who can help you to figure out what kind of shoe will work best for you—and they might even watch you walk or run on a treadmill to watch your gait.
And don't be intimidated if you're not an experienced runner! Staffers are used to runners from all ability levels. If you'd feel more comfortable before heading to a store, do a bit of homework and check out current running shoe reviews, like this 2015 Spring Shoe Guide.
Of course a new pair of running shoes also requires a trial run. Whether you prefer training on a treadmill, trying a top outdoor route, or working your way up to a fun run or race like the —there's no shortage of opportunities to get out in the Twin Cities to test out your new running shoes.