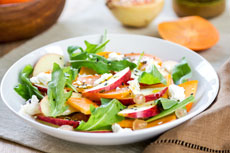 This colorful combination of fruits and vegetables is a festive dish for a holiday meal or a summer buffet. The sweet and spicy contrast of the fruits and vegetables appeals to a variety of tastes.
Recipe provided by the Chef Marshall O'Brien Group.
Serves 6
Ingredients
1 cup orange bell peppers, slices
1⁄4 cup radishes, sliced
1 cup tomatoes, chopped
1 cup Granny Smith apples, sliced or chopped
1 cup mango, frozen/thawed, chunked
1 tablespoon cilantro, or to taste, chopped
1 tablespoon olive oil
Salt and pepper to taste
Directions
Combine all ingredients and serve.