Kick off the charitable season on December 1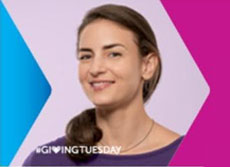 Following Black Friday and Cyber Monday, #GivingTuesday is on December 1. This year, consider adding it to your post-Thanksgiving routine.
Find a way to make a difference in your community—from donating your time, resources or talents. You can participate on your own, or come together with friends, family, community members or co-workers to give, and then spread the word on social media about how you are giving.
Although it was founded in New York, the idea of #GivingTuesday captures the values of service and giving back that we hold high in our local Y community of the Greater Twin Cities.
For example, our local Y's Youth Intervention Services team supports youth who are "aging out" of foster care—about 2,000 young people in Minnesota each year. These outreach efforts offer support and help young people who have been in foster care to:
Gain safe housing
Secure employment
Achieve academic success
Learn self-sufficiency skills
Enjoy a healthy lifestyle
See how young people have been helped
Discover how the Y's life coaches helped Jermeisha gain employment so that she can support her children and pursue her dreams—watch Jermeisha's Story.
Learn how Eric, who has lived in over 50 foster homes, found consistency in the Y's program, which gave him the skills and support he needed to secure housing and reach his potential—hear Eric's Story.
The Youth Intervention Services team's outreach efforts for foster kids like Jermeisha and Eric are made possible through generous donations from people like you. Participate this #GivingTuesday by making a gift the Y.