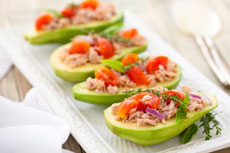 by the Chef Marshall O'Brien Group
Adding celery, tomato and onion to this tuna mixture boosts the crunchy appeal of this salad and sandwich filling and using avocado instead of mayo boosts the creamy, yummy texture while increasing the heart-healthy omega-3 content.
Serves 4
Ingredients
2 cans water-packed tuna fish, drained
1 avocado, mashed
1 cup celery, chopped
1⁄3 cup red onion, chopped
3 tablespoons lemon juice
1 cup cherry or grape tomatoes, chopped
1⁄8 teaspoon salt
1⁄4 teaspoon black pepper
Directions
In a bowl, combine all ingredients.
To serve, enjoy as is, in a sandwich with whole grain bread or with a green salad.
The Chef Marshall O'Brien Group is a dedicated assembly of professionals based in Minneapolis, Minnesota, committed to the goal of using nutrition to get kids and families to lead happier, healthier lives.