Find new skills, make lasting friendships, create lifelong memories and discover the magic over overnight camp for adults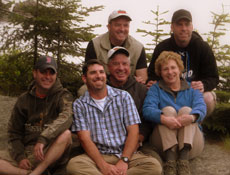 Now's a great time to plan your next camp adventure. That's right—YOUR camp adventure.
Adults are invited to YMCA Camp to connect with nature, participate in indoor and outdoor activities, unplug from technology and benefit from time with old and new friends.
Retreat to the Boundary Waters Canoe Area Wilderness
Retreats include outdoor adventures, creative and nature-focused workshops, time alone and time with friends to enjoy the beauty of the north woods, relaxing activities like massage and saunas, plus evening events and performances. Fees include all meals, housing, programs and equipment use.
Men's Ski, Snowshoe & Ice Fishing Weekend is January 21-24 and the registration deadline is January 11. Cost: $250
Couple's Retreat is March 10-13 and the registration deadline is January 28. Cost: $350-$450 per couple, depending on accommodations selected
Women's Spring Retreat is April 28 through May 1 and the registration deadline is March 17. Cost: $330
Winter Women's Weekend is February 5-7 and the registration deadline is January 29. Cost: $125-$160, depending on accommodations selected