by the Chef Marshall O'Brien Group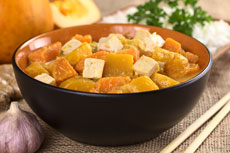 This sweet and savory recipe for sweet potatoes is seasoned with cinnamon and curry powder, which help fight cancer and reduce inflammation in your body. Easy, tasty, and good for you--what more could you ask for?
Serves 4
Ingredients
1/4 cup olive oil
4 1/2 cups sweet potatoes
1/2 cup onion, quartered 
2 teaspoons curry powder
1 teaspoon cinnamon
1/2 teaspoons salt
Directions
Preheat oven to 350 degrees.
Wash vegetables thoroughly; peel and cut into bite-sized pieces. 
Toss sweet potatoes and onions with olive oil, spices and salt.  
Place on foil- or parchment-lined sheet pan.  
Cook until tender and golden brown, about 30-45 minutes.
The Chef Marshall O'Brien Group is a dedicated assembly of professionals based in Minneapolis, Minnesota, committed to the goal of using nutrition to get kids and families to lead happier, healthier lives.