Tip: Weekly planning, prepping in advance and "cooking once to eat twice" will help you get nourishing family dinners on the table quickly and without stress.
by the Chef Marshall O'Brien Group
You've made a commitment to cook nutritious meals for your family, but when you return home from a long day, your family is hungry and you are exhausted. With no time to prepare a meal, you pull out a frozen pizza or order take-out – again. Simple planning, prepping and efficient cooking can free you from the "no time to cook" slump and start you on an easy routine of serving delicious, nutritious home-cooked meals on weeknights.
Create a Weekly Meal Plan
Planning ahead is essential to successful weeknight home-cooked meals. Over the weekend, consider the activities you have scheduled for the coming week and make a plan for each night. Meals that are simple and quick are best for busy nights. If not all family members will be eating together, you'll need a meal that can stay hot and be served when needed. Save complicated recipes for evenings when you have more time.
Assign Each Day a Theme
Create an outline that stays consistent from week to week - for example, meatless Mondays, taco Tuesdays, chicken Wednesdays and fish Thursdays. Collect recipes that fit these themes and rotate through them. With this method, you avoid repeating the same recipes each week, but don't have to reinvent the wheel every time you put together a new week's plan.
Prepare Foods Ahead of Time
Veggies, such as onions, peppers and other favorites, can be prepped ahead of time for use in roasts and sautés. Precook beans and grains, like rice and quinoa, and freeze them in pre-portioned bags. Meats, soups, stews and slow cooker meals all freeze well and are easily thawed for quick meals. Pull items out of the freezer the night before you intend to serve them and thaw thoroughly in the fridge before cooking.
Store Salad Fixings In the Fridge
Salads are a quick and easy way to get greens onto your plate. Rinse, spin and store greens such as spinach, romaine and arugula in a salad spinner so they are ready to go. Top off the greens with cut-up raw vegetables you prepared ahead. These can also be used to accompany lunches or as crunchy midday snacks.
Cook in Bulk and Transform Leftovers
One of the best ways to get healthy meals on the table quickly is to cook in large batches and use the leftovers in new ways. This Hearty Slow Cooker Roast is an excellent example of a recipe that can be transformed into a variety of new dishes. Here are some ideas for additional meals from the pot roast:
Portion meat into pita pockets with chopped romaine, a sprinkle of cheddar cheese, chopped tomatoes and a dash of hot sauce
Make burritos with avocados and jalapeños
Serve with scrambled eggs or in an omelet for breakfast
Serve with crushed red pepper flakes and a side of warm corn bread
When you consistently and easily feed your family home-cooked meals, you will love the way you feel!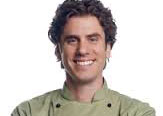 The Chef Marshall O'Brien Group is a dedicated assembly of professionals based in Minneapolis, Minnesota, committed to the goal of using nutrition to get kids and families to lead happier, healthier lives.