by the Chef Marshall O'Brien Group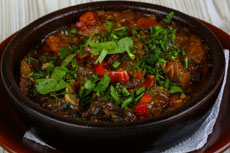 You will have the main ingredient for two separate meals during your busy week when you make this easy slow cooker pot roast. It is hearty and filling and gets its great flavor from pre-browning the meat the night before you start the slow cooker.
Serves 8
Preparation time: 20 minutes 
Cooking Time: 9 hours
Ingredients
1/2 teaspoon salt
1/2 teaspoon black pepper
1 tablespoon olive oil
2 pounds beef chuck roast (more if using for a second meal)
3 cups low-sodium beef broth
2 cups potatoes, quartered
2 cups carrots, peeled, chopped medium
2 cups onions, chopped
6 large garlic cloves, minced
1 cup canned diced tomatoes, with juice
1 cup mushrooms, chopped
1 tablespoon dried Italian seasoning
2-3 tablespoons fresh lemon juice, or as desired
2 tablespoons fresh parsley for garnishing
Directions
Season chuck roast with salt and pepper; brown meat on all sides in heavy skillet on medium-high heat with olive oil added.
Return skillet to stove on medium heat. When skillet is sizzling, add beef broth and scrape bottom of pan until the tasty brown bits are loosened. Pour brown bits and liquid into slow cooker. (The first two steps can be done the night before; refrigerate meat and juice till morning.)
Place potatoes and carrots at the bottom of the slow cooker, place browned meat on top and add pan juices. 
Place onions, garlic, tomatoes, mushrooms, and Italian seasoning on top of meat in slow cooker. 
Cook on high for one hour, then reduce heat to low and cook for 8 hours or overnight. 
Turn off heat and season with lemon juice and fresh parsley. 
Portion and serve.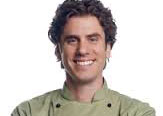 The Chef Marshall O'Brien Group is a dedicated assembly of professionals based in Minneapolis, Minnesota, committed to the goal of using nutrition to get kids and families to lead happier, healthier lives.