by the Chef Marshall O'Brien Group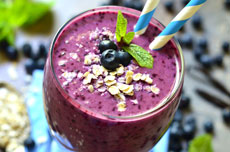 This easy, tasty smoothie gets its tangy sweetness from berries and a touch of honey. Using prepared oatmeal gives you extra fiber and a great way to use the leftovers from breakfast!
Serves 2
Preparation time: 10 minutes
Ingredients
1/2 cup prepared oatmeal (cooked and cold)
1/2 cup plain yogurt
1 teaspoon fresh ginger, peeled and grated
2 cups frozen berries--a mixture is fine
2 teaspoons honey
1/2 cup cold water
Directions
Place ingredients in a blender, process until smooth and serve.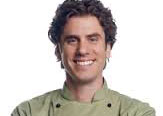 The Chef Marshall O'Brien Group is a dedicated assembly of professionals based in Minneapolis, Minnesota, committed to the goal of using nutrition to get kids and families to lead happier, healthier lives.