by the Chef Marshall O'Brien Group
This is an easy pasta dish, full of bright flavor from the lemon and capers. The carbohydrates in the whole wheat pasta and artichokes make this a good meal to eat to boost your glycogen stores the night before a long run or bike ride.
Serves 4
Ingredients
2 cups low-sodium chicken broth
2 cups short whole wheat pasta of choice
2 chicken breasts, thinly sliced
1 tablespoon olive oil
1/8 teaspoon salt
1/8 teaspoon pepper
2 cups artichokes, canned or frozen (thawed, chopped (If canned, thoroughly rinse and drain.)
2 tablespoons garlic, minced
1 tablespoon fresh sage, chopped
1/2 cup capers (jarred), rinsed
2 tablespoons lemon juice
Directions
Bring broth to a boil, add pasta and cook until tender (about 8-10 minutes). Drain and reserve liquid to use in finishing the dish. Set aside cooked pasta until ready to serve with chicken. You can also cook the pasta while the chicken and sauce are cooking.
Season chicken with salt and pepper.
Heat cooking oil in a deep frying pan on medium heat and sauté chicken until almost cooked through.
Add artichokes, garlic and sage and cook, stirring, until artichokes are lightly browned, about 2-4 minutes.
Stir in capers and lemon juice.
Add the broth from cooking the pasta, cook until volume reduces slightly, and remove from heat.
Toss with cooked pasta and serve.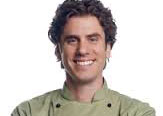 The Chef Marshall O'Brien Group is a dedicated assembly of professionals based in Minneapolis, Minnesota, committed to the goal of using nutrition to get kids and families to lead happier, healthier lives.