2016 ForeverWell Camp Retreat is May 10-11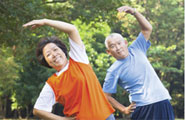 Think Y Camps are just for kids? Think again.
Each year older adults head to Camp St. Croix in Hudson, WI to experience the benefits of camp—like connecting with nature, participating in indoor and outdoor activities, unplugging from technology and benefitting from time with old and new friends.
This year's ForeverWell Camp Retreat is slated for May 10-11. Come for one day (May 10) or stay overnight for two days of fun—all for less than $100.
Registration opens April 4—to sign up, visit Member Services at your local Y (you can download the form before you visit). If you register by April 18, you'll get a free camp T-shirt.
Here's what you can expect at the ForeverWell Camp Retreat:
A fun and safe environment
No worries about having to bring or set up camping equipment, tents or food—we'll have you covered with cabins to sleep in (if you are staying overnight) and meals included with your registration
Engaging activities that might include archery, tai chi, hiking, crafts and zip lining
If you're coming for day camp—you'll get to choose four activities; if you're coming for overnight camp—you'll get to choose six
We'll send you a final schedule with your confirmed activities after you've registered
An evening social that's complete with campfire songs, wine tasting and line dancing
Keep on exploring the great outdoors
If you're always up for outdoor adventure, YMCA Camp du Nord offers family camp, retreats and vacation rentals in the spring, fall and winter. And beyond the borders of Minnesota, you can save at federal recreation sites with a Senior Pass from the U.S. Geological Survey.