by the Chef Marshall O'Brien Group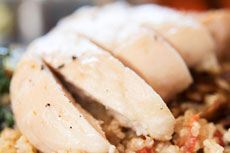 Add some kick to your family's grilling menu with this zippy crowd pleaser. If your family members are not fans of spicy foods, leave out the cayenne pepper. The other spices simply lend a complex, smoky flavor to the meat. Anyone in your family a vegetarian? Marinate some cubed tofu to add to the vegetable skewers and you'll also have a great meal for them.
Serves 6
Ingredients
12 12-inch wooden skewers
16 ounces boneless, skinless chicken breast, cut into 1-inch cubes
1 green bell pepper, cut into 1 inch pieces
1 red onion, cut into 1-inch pieces
1 zucchini, cut into 1-inch pieces
1 tablespoon olive oil
1/2 teaspoon garlic powder
1 teaspoon cumin
1 teaspoon smoked paprika
1 teaspoon onion powder
1/8 teaspoon cayenne pepper, optional
1/2 teaspoon kosher salt
1/2 teaspoon black pepper
Directions
Soak skewers in water for 30 minutes or more to prevent burning.
Preheat charcoal or gas grill.
Combine olive oil, garlic powder, cumin, paprika, onion powder, cayenne pepper (if desired), salt and pepper in a plastic bag.
Add chicken, peppers, onions and zucchini to the marinade and coat evenly; marinate for 10-15 minutes.
Alternate chicken, peppers, onions and zucchini on skewers.
Grill, turning occasionally, until chicken is cooked to 165 degrees and vegetables are soft.
Serve with a lemon wedge and steamed rice if desired.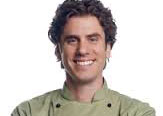 The Chef Marshall O'Brien Group is a dedicated assembly of professionals based in Minneapolis, Minnesota, committed to the goal of using nutrition to get kids and families to lead happier, healthier lives.