Tip: Dad's commitment to eating nourishing foods empowers his children to place a priority on good nutrition that will help them reach their fullest potential.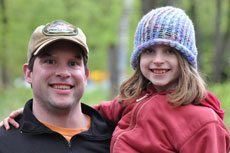 By the Chef Marshall O'Brien Group
Father's Day began at the YMCA over 60 years before President Nixon recognized it as an official holiday in 1972. Today, Dad's role in his children's lives is more diverse than ever. His involvement supports the wellbeing of his children and he is an important role model for them in many ways, including making healthy choices. This Father's Day is a perfect opportunity to recognize and appreciate Dad for his role in empowering and supporting his children's and family's wellness.
Dad, the Role Model
Studies show that when dads are involved, nurturing parents, their children benefit greatly. Even fathers who are not the primary meal planners or preparers in the family have a significant influence on their children's nutrition. Whether Dad eats three balanced meals a day or leaves in the morning with an empty stomach, the kids are watching and learning from him. When Dad places a high priority on his own self-care and eating nourishing foods, he is helping his children become their healthiest selves and reach their fullest potential.
Empower Kids with Real Food
Father's Day is a perfect time to appreciate Dad for his important role in family wellbeing– but Dad's influence on healthy eating is year-round. These ideas help Dad be a more positive role model and teacher of nourishing eating habits every day:
Grocery Shop Together. Spend quality time with each other while getting an important job done – as a bonus, kids learn about healthy food and participate in meal planning. Small children take pride in transporting produce from aisle to check-out lane in the small grocery carts available at many stores.
Dad, the Chef. When Dad takes an active role in meal planning and preparation, he sends the message that eating nourishing food is a priority for everyone – and that dads cook, too!
Cook Together. Preparing a meal with Dad emphasizes the importance of nourishing eating and fosters the connections of working together. When children have a hand in preparing the meal, even the pickiest eaters are more likely to enjoy the food. Our recipe for Huevos Rancheros with Avocado is an easy, tasty meal that little hands can help prepare with Dad.
Prioritize Family Meals. The benefits of family meals are numerous and well documented. Dad's support is integral to successful family meals. Make them a regular part of your weekly schedule.
Model Healthy Eating. Kids are much more likely to choose nourishing foods when they see Dad eating and enjoying them. When Dad demonstrates healthy eating, he passes on the good habits to his children.
Thanks, Dad!
Dad's role is important every day, but Father's Day is an excellent time to remind Dad of how much we love and appreciate him – and how much his involvement and commitment to nourishing eating matters. Find a special way to thank Dad for his important role in helping to raise well-rounded, healthy kids.
You will love the way you feel!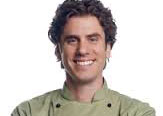 The Chef Marshall O'Brien Group is a dedicated assembly of professionals based in Minneapolis, Minnesota, committed to the goal of using nutrition to get kids and families to lead happier, healthier lives.