By the Chef Marshall O'Brien Group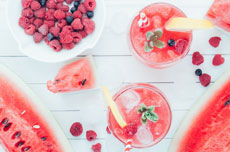 The mint in this recipe provides a refreshing burst of flavor along with the sweetness of the fruit. Your friends will ask for the recipe! Honeydew, Musk or Tuscan melon can also be used, and peaches can be substituted for the nectarines. If you are looking for more variety in your hydration routine, give our strawberry-melon chiller a try.
Serves 4
Ingredients
1 cup cantaloupe, rind removed and cut in chunks
1 cup seedless watermelon, rind removed and cut in chunks
1 cup ripe nectarine, peeled and cut in chunks 
1 cup strawberries, hulled
1/4 cup cold water 
1 tablespoon fresh lime juice
2 tablespoons fresh mint, torn and tightly packed 
Directions
Place all ingredients in a blender and process until smooth. 
Portion over ice if desired, serve.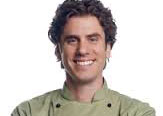 The Chef Marshall O'Brien Group is a dedicated assembly of professionals based in Minneapolis, Minnesota, committed to the goal of using nutrition to get kids and families to lead happier, healthier lives.