By the Chef Marshall O'Brien Group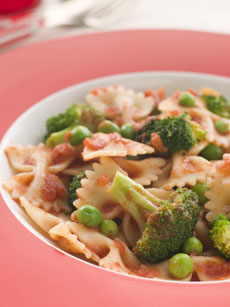 This pasta has the advantage of being delicious served either hot or cold. It features sweet cherry tomatoes, roasted to enhance their flavor, along with the crunchy contrast of broccolini. It makes a great summer lunch or a dinner side dish when served with grilled meat or fish.
Serves 4
Ingredients
2 cups cherry tomatoes, halved
2 tablespoons olive oil, divided
2 teaspoons fresh thyme
1/4 teaspoon kosher salt, divided
1/4 teaspoon black pepper, divided
2 tablespoons garlic, minced
3/4 cup shallots, thinly sliced
8 ounces broccolini, chopped
1/2 teaspoon red pepper flakes
1/2 cup low-sodium vegetable or chicken stock
8 ounces dry whole wheat bowtie pasta
1/4 cup grated Parmesan cheese
Directions
Preheat oven to 400 degrees. Line a baking sheet with parchment paper or foil.
Combine tomatoes, olive oil, thyme, 1/8 teaspoon salt and 1/8 teaspoon pepper.
Place tomatoes on sheet pan and roast, stirring occasionally, for 15-20 minutes; set aside.
In a large sauté pan, heat 1 tablespoon of olive oil on medium-high heat.
Sauté garlic and shallots until translucent and just starting to caramelize.
Add broccolini and red pepper flakes; sauté for 3-5 minutes.
Add stock, deglaze pan, and turn off heat.
Bring 4 quarts of water to a boil.
Add pasta to water and cook until al dente, about 7-8 minutes. Drain and reserve 1/4 cup of pasta water.
Transfer pasta to the sauté pan along with reserved pasta water.
Add the tomatoes and their juices and increase heat to high.
Cook until liquid is reduced to around 1/4 cup.
Turn off the heat, add the cheese and toss to incorporate.
Season with remaining salt and pepper.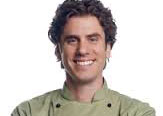 The Chef Marshall O'Brien Group is a dedicated assembly of professionals based in Minneapolis, Minnesota, committed to the goal of using nutrition to get kids and families to lead happier, healthier lives.