By the Chef Marshall O'Brien Group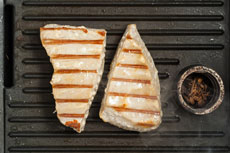 Summer is grilling time and this delicious, meaty fish is great for the grill. The arugula salad provides a light, flavorful accompaniment for the meal that takes advantage of fresh seasonal produce.
Serves 4
Ingredients
5 ounces arugula, washed and dried
1/3 cup basil, thinly sliced
1 cup strawberries, sliced
1/4 cup shallots, thinly sliced
4 tablespoons fresh lemon juice, divided
4 tablespoons olive oil, divided
1 1/2 pounds Ahi tuna steaks, cut into 6-ounce pieces
1/4 teaspoon kosher salt, divided
1/8 teaspoon black pepper
Directions
Preheat grill on medium-high heat.  
Combine arugula, basil and strawberries in a large bowl.
Combine shallots, 2 tablespoons lemon juice, 3 tablespoons olive oil and 1/8 teaspoon salt.
Pour dressing over salad and let marinate while fish is cooking.
Season tuna with 2 tablespoons olive oil, 1/8 teaspoon salt and black pepper.
Grill tuna for 5-6 minutes, leaving untouched.
Flip fish; continue to cook until internal temperature reaches 145 degrees or desired doneness, about 5-6 minutes.
To serve, portion cooked fish on top of arugula salad.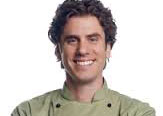 The Chef Marshall O'Brien Group is a dedicated assembly of professionals based in Minneapolis, Minnesota, committed to the goal of using nutrition to get kids and families to lead happier, healthier lives.